Spotify, popular online music streaming service has just sent out some emails to the pirated users of the app. Since Spotify is a premium music streaming platform, it has a paid upgrade programme and a free limited account as well. But this free version has its own limitations. The free version only allows users to play their tracks as shuffle, also it lacks many features such as seeking between lines and many more. So many of the users were forced to use the cracked version of their app from the internet.
Now the company has started sending warning emails to some of the cracked app users. The warning email says that they detected an abnormal activity on the user's account. They have started removing account access to those cracked apps. If you want to continue to use your account, you have to download and install the official Spotify app from the Google Play. Spotify also warns that they will suspend/terminate the accounts which violates their terms and conditions.
A paragraph from the email: "We detected abnormal activity on the app you are using so we have disabled it. Don't worry – your Spotify account is safe," the email from Spotify reads. To access your Spotify account, simply uninstall any unauthorized or modified version of Spotify and download and install the Spotify app from the official Google Play Store. If you need more help, please see our support article on Reinstalling Spotify."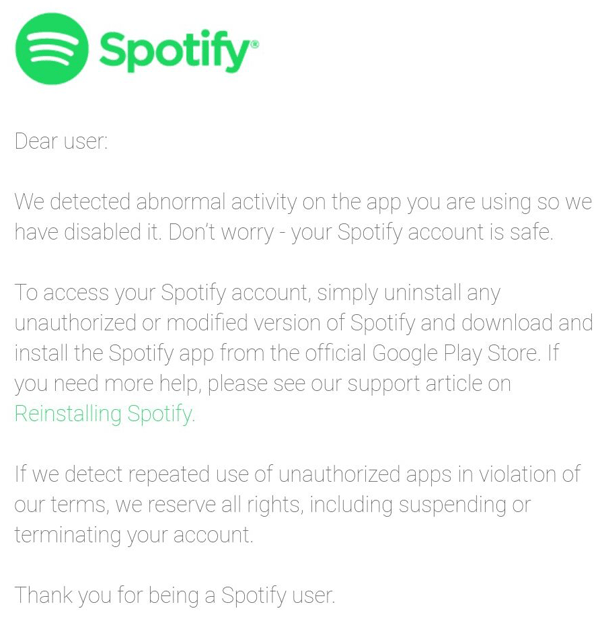 So the company is now serious about the piracy. This is a great move as it helps them to clean up the pirates which affects huge revenue loss of the company. Now, if you are using a cracked version of the Spotify app, uninstall it right now and continue to enjoy your music at official Spotify app.