Another powerful extra-fast chipset from one of the most advanced CPU manufacturer Qualcomm has been leaked now. The new chipset is the powered latter of Snapdragon 820 SoC. According to some leaks, it was reportedly said that the Chipset has been renamed into Snapdragon 823 instead of Snapdragon 821. But a leaked promotional of ASUS ZenFone 3 Deluxe suggests that the device is to be powered with Snapdragon 821, which clears that the renaming has not been done yet.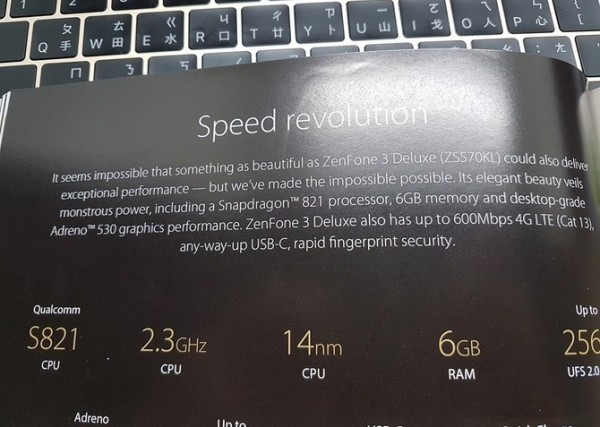 The all new upcoming Snapdragon 821 Chipset has nothing, but just a slightly upgraded version Snapdragon 820. The chipset is expected to have same quad-core, used last time in SD820. It is slightly overclocked now, from 2.15GHz to 2.3GHz. The manufacturing processes are same as before, with 14nm node and moulded up with Adreno 530 GPU. It seems like there is no chance to be the Chipset renamed to 823. According o IHS Analyst Kevin Wang, most of the flagships on 2016 H2 will be powered with Snapdragon 821, not 823.
From te leaked promo, the ASUS ZenFone 3 Deluxe (ZS570KL) is a highly specced smartphone with some killer specifications, with 5.7 inch sized display. It has different variants powered with Snapdragon 820 and Snapdragon 821 paired with 6GB RAM. The internal storage variants are of 3 types – 64GB, 128GB and a hugely allocated 256GB, which is provided with SD 821 variant. It is to be sported with 23MP Primary camera and 8MP front facing one. Also, the faster networking is made possible with 4G LTE Cat.13 technology.
Currently, it is not clear about the launch date of the Chipset and the ZenFone 3 Deluxe, and there are no devices listed, powered with Snapdragon 821. So the ASUS ZenFone 3 Deluxe could be first smartphone to be powered with the Qualcomm Snapdragon 821 Chipset.
Are you ready to invite the next-gen powerful smartphone chipset ?