Google is preparing to unveil the all new Android N, along with it there are some Nexus devices are expected. Last year, Google had launched Nexus 5X and Nexus 6P with OEMs LG and Huawei. Like the last year, there are more than one Nexus devices are coming this year, probably three. It is reportedly said that Google is making contract with two companies this year, Huawei and HTC.
Nexus smartphone made by Huawei this year would be the revamped variant of Nexus 6P, launched by them last year. Remaining two devices are expected to manufactured by HTC itself, as from the rumors popped-up earlier in April. The two devices are code named internally as 'M1' and 'S1'. The two devices are expected to grab the name tagged over board as 'Marlin' and 'Sailfish' respectively. The Marlin device from HTC has been spotted on Chromium issue tracker a while ago.
You can see the device named Marlin listed on the Screenshot image below :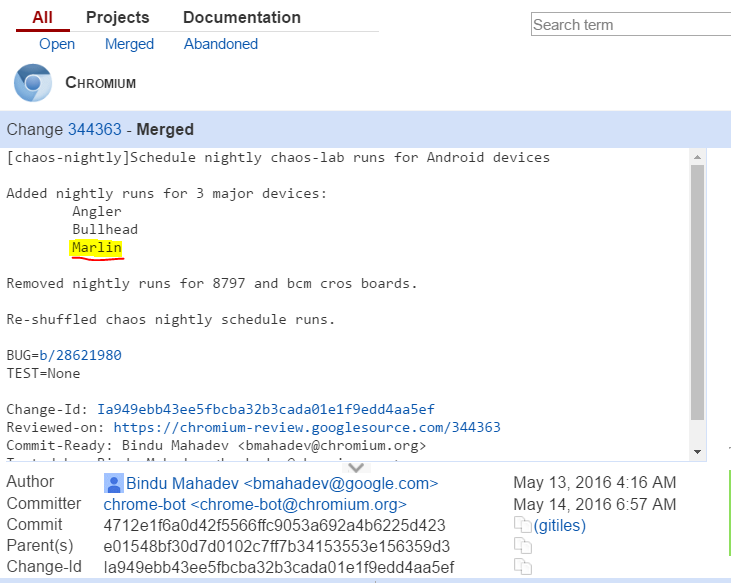 As from the rumors, the HTC Nexus 'Marlin' device will be powered with Snapdragon 821, which was spotted along with the ZenFone 3 Deluxe teaser last day. It should run Android N, the newest version from Google's Smartphone OS. There are also two names listed along with the Marlin on chromium, but which are launched last year (5X and 6P).
There is only a probability for this year's nexus to being HTC's. It is not verified yet, whether it will be made by HTC or Huawei. We still have to wait some moments to let those information to be leaked out or officially announced.