A recent supposedly leak of the upcoming flagship processor from Snapdragon hits the internet and promises some real raw power as the chip hits an ever-astonishing 362,292 overall points ripping apart the Kirin 980 ( 273,913) and a slightly improved score from the A12 Bionic (353,210)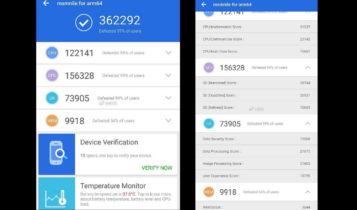 The leaked AnTuTu score sheet also reveals us with some key aspects of the core configurations and clock speeds. We believe that the leaker who first posted it at Weibo is an insider. He claims that the new Snapdragon 8150 comes with a strange core configuration of the 1x high-performance core, 3x medium cores, and 4x energy-efficient low-performance cores.
We also have from AnTuTu that the Cortex-A76 high-performance core is clocked at 2.84 GHz, the three medium ones are clocked at 2.4 GHz and the smaller Cortex-A55 core ticks at 1.78 GHz within the four cores. If the leaks are to be believed, then we see Qualcomm taking an unusual road and making use of ARM's DynamiQ architecture that lets the OEM's pair different types of cores with various clock speeds into one cluster, thus the end results of the chip rely on the device manufacturer.
The GPU scores are also promising as well with a whopping score of 156,328. That's around 20% increase in raw performance over the Adreno 630 which Qualcomm uses on their predecessor Snapdragon 845
Either way, this whole information relies on a random Weibo user so should be taken with a pinch of salt, but the day that Qualcomm will officially unravel their newest flagship is not that far enough!