All we are eagerly waiting for the Samsung's next mind-blower the Galaxy Note 8. The launch is set to peek out in next Wednesday. Here is a new good news for Samsung Galaxy S8 and S8 Plus holders. Samsung had rolled out a bunch of app updates yesterday, which showed out the entry of Samsung's voice assistant, The Bixby out to all. Yes, the Samsung Bixby Voice had started advancing the S8 and S8 Plus devices globally since yesterday.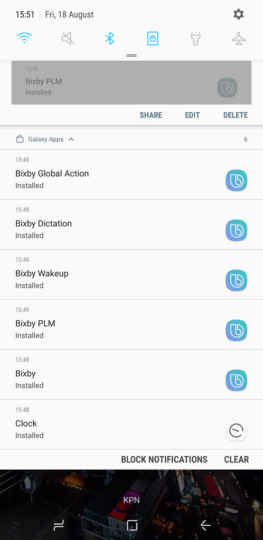 Bixby might be providing the voice dictation too. This report came from some users in Germany. Samsung placed the codes a long time ago, and now the Bixby is going live with some of the promised features and functionalities. It is because we should remind that Bixby is still in the stage of development, not matured yet. There are some rumors that Voice prompts for Bixby will be enabled on August 22.
The time when Bixby released was a bit sad, and it was harder for Galaxy S devices enabled with Bixby, to survive it. Samsung's Support channels showed some confidence that the Bixby Voice will be fully operational all over the globe by the time of the announcement of Galaxy Note 8. Bixby is one core feature for Galaxy Note 8 which is set to release on August 23.
Several markets around the globe had rolled out with Bixby Suite updates including Bixby, Bixby Global Action, Bixby Dictation, Bixby Wake Up and Bixby PLM.