Realme is one of the most trending smartphone brands in India. Because of the perfectly balanced pricing and killer features, people prefer Realme smartphones than any other established leader companies. Therefore, Realme has also joined the Diwali sales on the various e-commerce portals including Amazon and Flipkart to offer some good discounts for smartphone purchases. However, it looks like the brand is planning to increase the price of all Realme smartphone models including the newly launched Realme 2 Pro just after the Diwali sales.
Mr. Madhav Sheth, CEO of Realme India said: "The rupee rates are falling and as a brand we actually work on low margins. It indicates that we might have to upgrade the pricing, just to make sure that we continue to give you the best technology in our upcoming offerings. We are trying to figure out a solution post Diwali. Traffic is increasing, pollution is increasing and so are the global prices against the rupee. It's going to be long working days this diwali for us as we try our best to bring the same Power and Style to you at the best prices. Hope Diwali brings cheer to the rupee."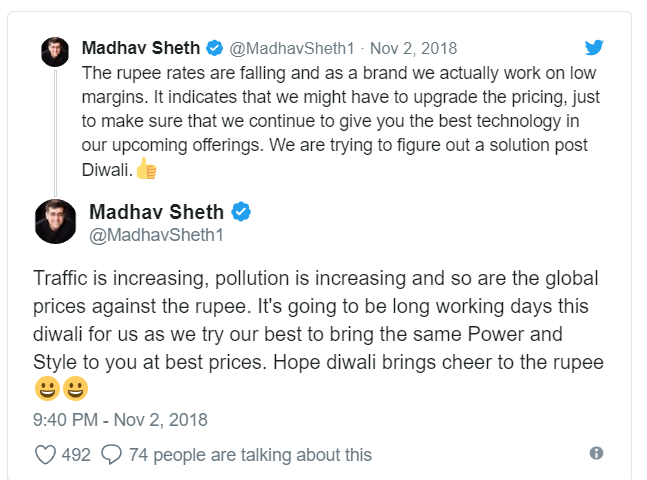 However, his tweets never mention anything about the percentage of hike in the price. But he also assures that even after the price hike, the brand will try their level best to offer their smartphones and services at the best possible lowest price. As a new brand, Realme tries really hard to make a trust in the industry with its customer satisfaction and good pricing for the Indian midrange tech consumers.