The one thing that Samsung talked about the most in their Samsung Developer Conference (SDC) 2018 was obviously a new, one-handed user comfortability prioritized One UI which is based on Android Pie and is a successor to the Samsung Experience. The main cookies and sweets that Samsung have baked into this ROM are things like a system-wide dark mode, a new UI, and a design language focused on the ease of use and reachability and an emphasis on the Material UI. This whole One UI might also shed some light over at what Samsung might have planned for the 2019 February.
The ones owning an S9/S9+ can officially start testing the new UI as the Korean giant is opening up the beta program for the above-mentioned flagships from the 'S 'lineup as of now.
The One UI beta program which was initially live in South Korea has now been up in the United States as well with a possible hint of a German release as well (credits: SamMobile). The best of this is that it brings up the official Android Pie to Samsung's flagship with all of One UI's new looks and features.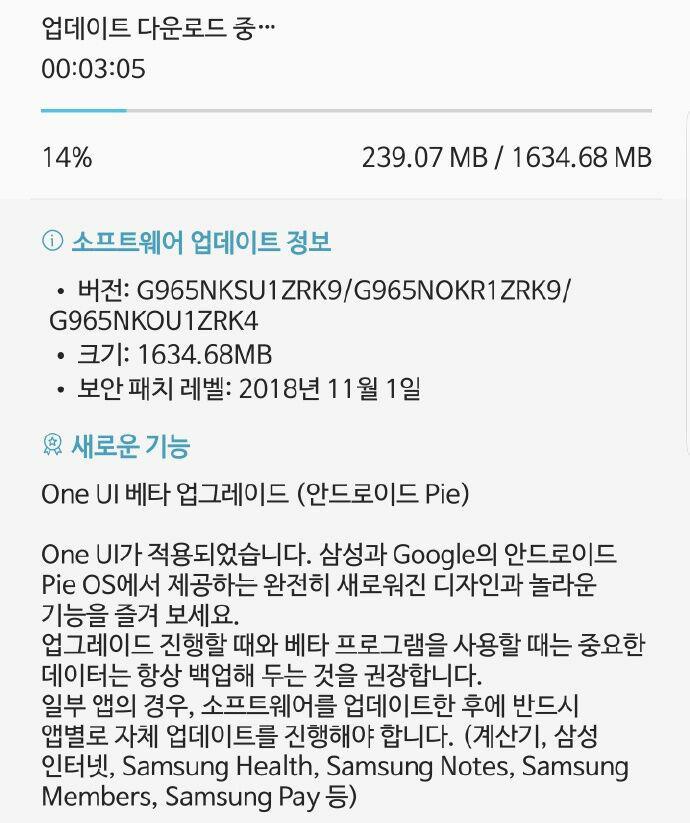 If you want to try the new One UI and haven't yet, then you can do so from within the Samsung members app, where you can see an option for enrolling in the beta program after tapping on the 'Notices" button. After this, you'll be notified of a new system update as you are enrolled in the beta program. The update weighs in at 1895.54MB for the S9+.
The Pie beta updates as per Samsung's policies should come in on a bi-weekly basis till the end of the year before a stable release kicks in. This translates into at least 3 more beta updates before the global stable release will be given out to the public in at around January.
So what are you waiting for? If you live in the supported regions, go ahead and sign up for the beta program for your device and taste the newness of the One UI. For the rest of the world as long as you want the more official version all you can do is keep the fingers crossed and wait for Samsung to open up in your region.