Finally the time is here. We are just few weeks far from the official launch date of OnePlus 6 smartphone. Just like last year, OnePlus is launching it first in India as Amazon exclusive. They are expanding their exclusive partnership with Amazon India to continue to promote and sell their products. Now, the Amazon India's official promotion page for OnePlus 6 is live, which indicates the launch date is imminent.
The Amazon India page for OnePlus 6 is now live and the interested people can sign up for updates regarding the smartphone via the 'Notify Me' button. "The new flagship offers more screen without compromising on size, providing an immersive viewing experience," Amazon said in a statement on Saturday. However, there was no mention of the smartphone's pricing, release date, and other details in the statement released by Amazon.
Noor Patel, Director – Category Management, Amazon India said, "OnePlus 6 is inarguably one of the most anticipated smartphones in India today. We are glad to remain the partner of choice for such an iconic brand for over 3 years now and bring our customers exclusive access to the new OnePlus 6. Customers can visit the dedicated Amazon.in OnePlus 6 page at 00:00 hrs tonight and follow the instructions to get notified with updates for the new OnePlus 6!"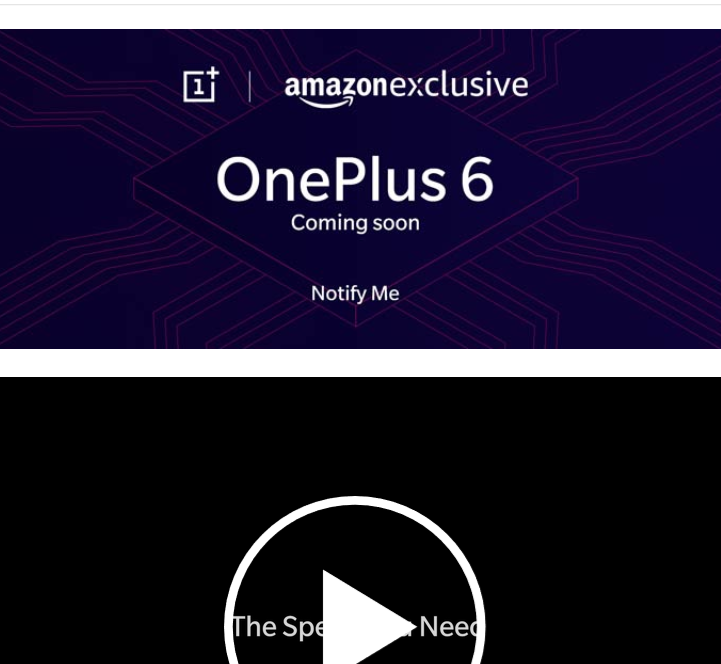 The smartphone is expected to feature a 6.2-inch display, with the aspect ratio of 18:9 or 19:9 depends on the notch. Well, there would be a top display notch in the OnePlus 6, just like Apple iPhone X, where the sensors will be placed in order to reduce the bezels to the least. The display resolution will be graded to an upper level, from Full HD to QHD+. We can expect either an AMOLED panel from Samsung or an OLED display panel from LG on the smartphone.
The primary camera sensors of the smartphone will be of 16MP and 20MP combo. Among them, one will have an optical zoom capability (just like its predecessor). The company is to improve the image capturing technology, on both rear and front with a possible 8MP sensor. The battery pack will be boosted with 3,500mAH, with the support of company's iconic DashCharge technology which is equivalent to QuickCharge by Qualcomm.
Also Read: OnePlus 6 Specifications, Release Date, Price, Leaks