Motorola's Moto Mods are popular, as they have modular characteristics. The Moto Mods docks are available for Moto Z Play, Z2 and Z2 Play smartphones currently. Any f the available Moo Mods can be tacked on to the rear panel of your Moto Z smartphone, just like a back case. The Moto Mods are much easier to dock and undock, as they stick on to the device with just only a set of magnetic pins. The Lenovo owned American brand; Moto releases more and more Moto Mods for their devices gradually. They also have made the developing of Moto Mods open for anyone, so electronics enthusiasts and programmers can build some unique Mods.
Now the Moto itself has started taking pre-orders for an interesting Moto Mod dock now with Amazon Alexa enabled speaker now. The Alexa AI-powered personal assistant was available in only a couple of smartphones like HTC U11. Now with the new Moto Mod, the Moto Z/Z lay/Z2 Play smartphone users can also experience amazon Alexa backed with hardware power. The Voice recognition, voice input, and other functionalities are directed through the smartphone screen itself, while the speaker output through the Moto Mod itself, with Boombox sound clarity.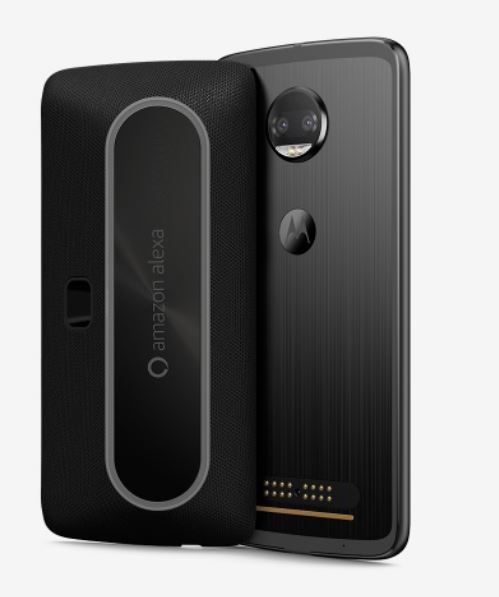 The amazon Alexa-enable Moto Mod itself weighs around 168 grams and measures 153.2 x 73.2 x 22.8 mm. The 8W stereo speakers with 27mm driver diameter are capable of 82 decibels of volume output. Motorola offers a 15hours of continuous battery life in a single ccharge with its 1530 mAh battery. You can now pre-order Alexa Moto Mod at $149.