Samsung launched the Galaxy Note 8 smartphone last year for an whopping price $950 for the unlocked models. Later the company has reduced the pricing to $850 at Samsung online store. That means the company cut off almost $100 from the real price to make it more affordable. It is a really good deal considering the discount and the offerings. However, that's not the cheapest price for the unlocked Galaxy Note 8. Microsoft store is now offering the device for just $829.99. That means, it reduces over $120 from the original launch price. You can buy the cheapest Galaxy Note 8 unlocked models at Microsoft store online.
Started last year, Microsoft is selling Galaxy smartphones in an exclusive partnership with Samsung. At the earlier times, Microsoft was shipping the Galaxy S8 devices with Microsoft's apps on board and called the device as Microsoft edition. Now, they are not shipping the smartphones with their apps as default and it is completely optional for you. That means you are free to choose whether to use Microsoft Launcher app or any other Microsoft apps come preloaded with the device. If you consider to purchase the unlocked Galaxy Note 8, this is the best deal you can get. However, Microsoft is only selling the black color variants, and yeah.. black models are stunning beautiful. You can buy it online at Microsoft store or offline stores throughout the US.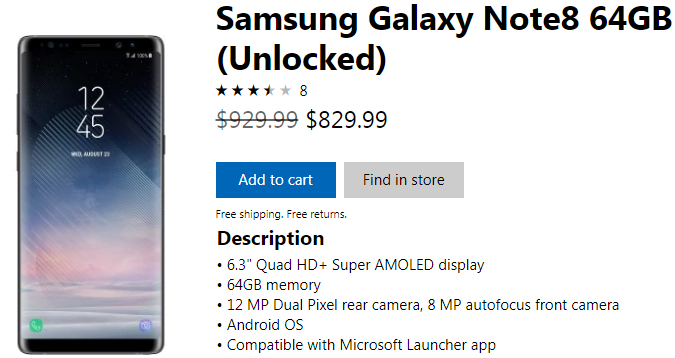 In case you would like to know, the Samsung Galaxy Note 8 comes with 6.3 inches of infinite display, powered by Qualcomm's Snapdragon 835 SOC under the hood. the smartphone is priced almost nearly one grand, but costs lesser than the Apple's iPhone X. The Samsung Galaxy Note 8 is the first Samsung flagship to feature a dual lens camera on the rear. The dual lens on Note 8 consist of one wide angle lens and a 2x telephoto lens. Samsung has appended it with dual OIS, first-time in the smartphone industry. The all-new Live Focus mode is able to make the pictures much better with a bokeh-effect, without affecting the original image – i.e, dual imaging at once.