At Google I/O 2017, Google announced the successor of their popular app Google Goggles named as Lens. They announced that it will first arrive on Google photos and later on Assistant. We know that the Lens is already available in Google Photos since a long time ago. Now, the feature is rolling out to the Google Photos too. Lens is a machine-learning powered spiritual successor to Google Goggles, as it can identify objects and landmarks in photos.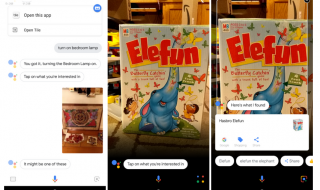 As tipped by some users, the feature is now available for the Google Assistant app. When you tap, it opens the camera and lets you click or point to any object. The intelligent system will analyze and will try to figure out what it is. It is exactly same as what we have seen in the Google Photos app. Also, only the Pixel users received the update as of now. So at the time, this feature is a Pixel exclusive one.
You can also check out info on local business info via Knowledge Graph, pull contact info from business cards, translate text from other languages, pull event information, the applications are basically endless. Most of this stuff already existed, but now it's all in one place, and interacting with other Google services for easy data entry.