After a little time of pause, Taiwanese smartphone manufacturer has come back to action with a special new smartphone named HTC Exodus 1. The device is considered the first blockchain-focused smartphone. The hardware specifications of the smartphone are similar to the HTC U12+, which the company launched back in May this year, with a translucent, semi-transparent back glass panel.
Starting from the USP (Unique Selling Proportion) of the HTC Exodus 1, it is the first smartphone which comes with an in-built extreme support to blockchains and cryptocurrency transaction. With the integration of blockchain technology, the company also seem to have worked well with the security part. Developers are also invited across the world to work with HTC to enhance the security measures of the Exodus 1 smartphone. Many secure features were also announced along with the smartphone like a Secure enclave, trusted UI, Social Key recovery, and more. Additionally, there is a parallel Micro OS running along with the Android to secure the Cryptocurrency wallets and Blockchain transactions, since the Android OS is not secure enough to keep the attacks at bay.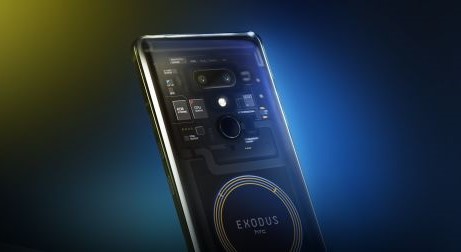 The company currently focuses on cryptocurrency mining, especially based on HTC's own Crypto wallet named Zion. It is promised to extend later towards the users' data security and integration, says HTC.
Talking of the basic hardware specifications, the HTC Exodus 1 is a clone of U12+ with its looks and processor/RAM. The smartphone comes with a 6-inch QHD+ display, powered with Qualcomm's Snapdragon 845 Chipset and 6GB of RAM onboard. The inbuilt storage of 128gigs can be expanded through the SD slot. Interestingly, the smartphone will not be available publicly to buy using the real cahs. You need to pay through Cryptocurrency like Bitcoin or Ether in order to buy this. HTC Exodus 1 is available starting at 0.15 bitcoins or 4.78 ether tokens, which is roughly translated to USD 960.