Google's File management app for Android smartphone, Files Go today hits an update. The new rollout fixes some earlier bugs and adds several more features. This is not the first time the Google rolls out new features to the app. But, the newly added features make it a better suite for file sharing and handling in a convenient way.
The earlier version of the app had the option to share files. But the app needed the users to manually send files individually, and the transfer rate was limited up to 125Mbps. With the latest addition, the users now can get a new tab, which specifically for the file sharing. Until now, the bottom bar was showing the Clean and Browse options. If you update the Files Go app to the latest version, you will start seeing a third tab named "Share." It is like any other file sharing app, works similar to the Xender, Shareit. You can privately send files between phones without internet, but over Wi-Fi. Both the users must have the Files Go installed on their phones.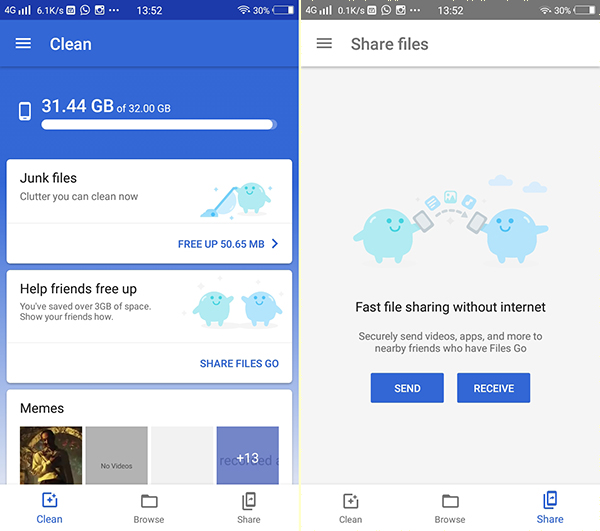 Google says that the new share option on the app is capable of transferring files at a rate of 455Mbps. Additionally, it adds a file extraction feature which can open and extract zipped files. The clean tab is also optimized to detect and clean up the unnecessary videos on your smartphone, that are taking up the storage space.
In case you did not know, the Google Files Go has improved a lot over the time. It can backup your files to the Google Drive easily. Additionally, the file sharing is encrypted with WPA2. If you are seeing any of the latest features, make sure you have the latest version of the app.
Download the Files Go app from here.