As we previously got to know, the Mountain View tech giant is supposedly working on a mid-range Pixel 3 version. The device codenamed Sargo has been leaked just the previous week for the first time. Today, The Pixel 3 Lite leaked again now pictured right next to a Pixel 3.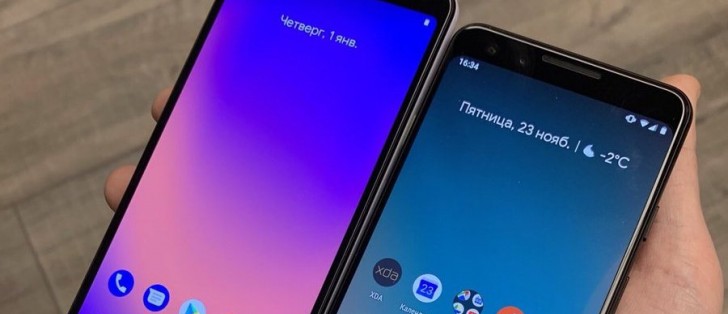 Both share more similarities rather than the differences although the Lite's screen is marginally taller at a 5.56" in diagonals (compared to 5.5") with an aspect ratio of 18:5:9 moving from the traditional 18:9.
The Pixel 3 Lite comes with a powerful Snapdragon 670 SoC, coupled with 4GB of RAM, 32GB of on board storage and a decent enough 2,915 Aah battery. The same that you'd find on the Pixel 3.
The Lite should also come with the same stellar 12 MP primary sensor which translates into Pixel 3 level photography on the budget as most of the workers employed by Google is with the camera algorithms and we will see the same on this mid-range as well. The secondary sensor is an 8 MP single unit for selfies unlike the dual shooter for wide angle, which is excepted as this is a budget offering by Google and certain compromises are vital for keeping the price down. We have already covered some allegedly pictures taken with the Pixel 3 Lite which you can have a peek here. 
The Pixel 3 Lite should come with Android 9.0 Pie. The Pixel 3 Lite seems to be offering restricted only for the developing countries like India where OnePlus plays a vital role in the premium tier category, the coming of headphone jacked Pixel 3 Lite will definitely kill the likes of OnePlus in the country.