AnTuTu is one of the most popular benchmarking platforms which is being widely used by smartphone users in order to calculate the performance benchmark and processor clocking score of their devices. Thousands of smartphones in a single day is going under benchmark tests via the AnTuTu app, and the details of the device and the scoring are stored on AnTuTu's database. The Benchmarking platform uses the data for annual as well as monthly report generation in regarding with the processor usage, power and other hardware configuration quality on smartphones. As of every year, the AnTuTu has released the most popular Android chipsets of 2017 as a list with the popularity percentage.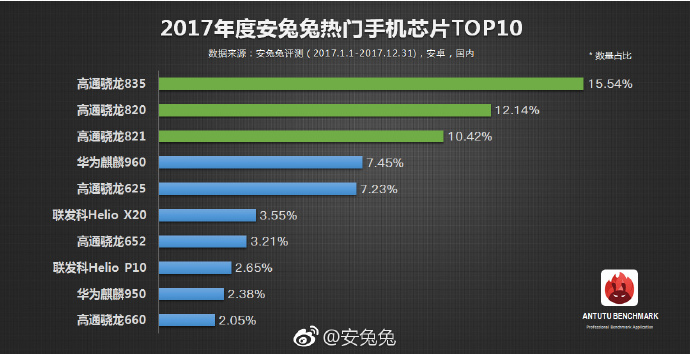 According to the company, the most tested and popular chipset in 2017 is the top-tier SoC (System-on-Chip) by Qualcomm, Snapdragon 835. It is no wonder how it got there, as most of the flagship smartphones of 2017 are powered with this powerful chipset by Qualcomm, which is even proved as powerful to run a laptop. The chipset boasts inside almost 15.54% of the smartphones launched in 2017., says AnTuTu data. The second position is acquired by Snapdragon 820, even while its successor SD821 got only a third place. Followingly, Huawei's in-house HiSilicon Kirin 960 gained a fourth position% of participation, which is a good thing considering it powers numerous Huawei devices only. The fifth one is the widely used Snapdragon 625 in mid-range smartphones. Coming to the bottom level of the benchmarking rank list, the Qualcomm Snapdragon 660 SoC resides at the 10th position with just 2.05% of tested users. Here's the complete list in chronological order:
Qualcomm Snapdragon 835
Qualcomm Snapdragon 820
Qualcomm Snapdragon 821
HiSilicon Kirin 960
Qualcomm Snapdragon 625
MediaTek Helio X20
Qualcomm Snapdragon 652
MediaTek Helio P10
HiSilicon Kirin 950
Qualcomm Snapdragon 660
By just analysing the list, we can clearly point out that there are only a couple of MediaTek and Kirin Chipsets, and mostly Snapdragon processors. This says the popularity of Snapdragon Chipset powered devices in markets, especially in several Asian countries. Please note that the above list is not based on the performance or efficiency. This is the popularity of Chipsets among the smartphone users proportionately.