Amazon found India a big market for electronic gadgets and personal assistance since they got a great response within the market when they launched the Alexa-powred Echo, Echo Dot, and Echo Dot devices. These devices compete against the Google's Home Pods and Home Mini devices, which too have a great market share. Now, the American Internet giant, Amazon has launched a new set of devices from Echo series for India.
The new five devices launched in Amazon India website are Echo Dot, Echo Show, Echo Input, Echo Plus, and Echo Sub. The newly launched Echo Dot is the third-generation one with a new fabric finish, similar to Google Home Mini. The new appearance change from plastic to the fabric makes it look more premium. The speaker output is claimed to have improved well with the generation change. Surprisingly, there is no change in the price tag — you can preorder the device from Amazon India website at Rs. 4,499 in three color options – Charcoal, Heather Gray, and Sandstone.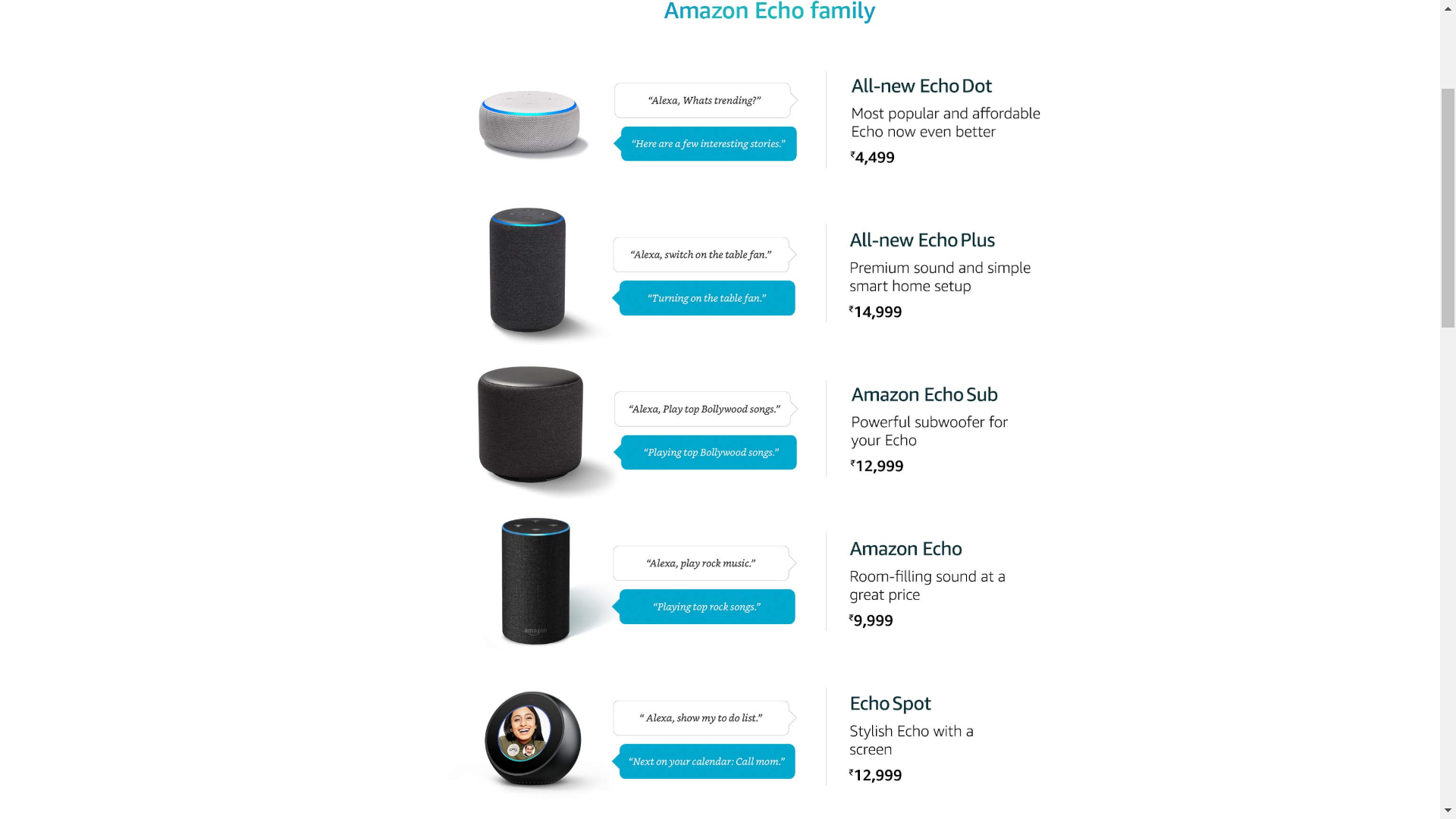 The new Echo Show is a big version of the previously launched Echo Dot It comes with a 10-inch screen along with a camera and a speaker grille. The company has not yet announced any price details for the device and will gon sale only by next year.
The Echo Input is simply the core hardware used with other Echo devices. It allows you to connect with any speaker and create an instantly working Amazon Echo device. It is the most affordable Echo device and is coming to Indin next year along with the Echo Show. Also, Echo Plus is the same old Echo Plus devices launched in past years, but with a fabric covering. It costs Rs. 12,999 in India. The new Echo Sub is a subwoofer set that you can connect with your existing Echo device to create a room-filling audio experience.
All the available items are currently listed on Amazon India website now.