The second generation bezel-less smartphone from the Chinese giant Xiaomi, Mi MIX 2 has been expected to launch by the Q3 this year. As we all have anticipated so far, the company has now officially announced the launch date of smartphone. The device is noted to be unveiled on September 11, according to a teaser image posted by the Xiaomi's official Weibo handle.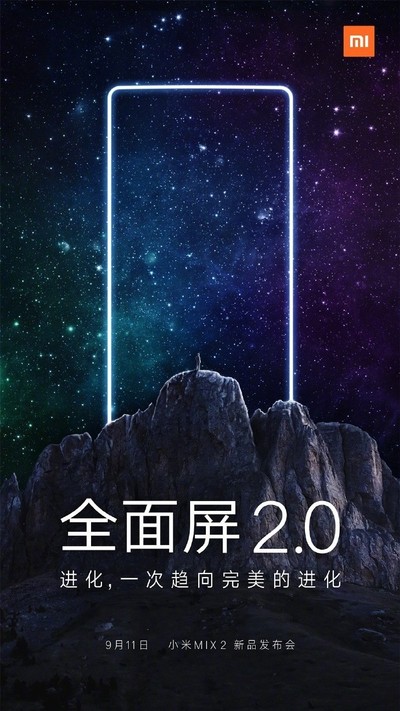 The teaser image shows a bezel-less outline design of the upcoming Xiaomi Mi MIX 2 smartphone, which has much lesser bezels compared to the predecessor. As from the image, the device has a little resemblance to the Samsung Galaxy S8/Note 8 devices. Previously teased images showed the same old design with plain 2D display, whereas the new one gives little clues about a supposed curved edges on the device. The bottom portion excepted from display which existed in the Mi MIX has been reduced much in the new variant, However it has an Edge-like curve on two edges and four corners. We cannot refuse the chance of having an Edge display in the smartphone, as the Xiaomi is currently working on to maximise the Screen-to-body ratio to 93% from 91.3. There is only a lesser chance to have the device with aforesaid display features.
Although we are not sure about the display feature but it seems so, no other features of the device has been revealed along with the teaser.
Xiaomi Mi MIX 2, according to the leaks, will feature a 6.4-inch bezel less display, powdered by Qualcomm Snapdragon 835 System On Chip and a humongous amount of RAM, counted to 8 gigs. As of you guys, we too are excited to see the smartphone on this coming 11th .