Whatsapp, the most-popular Messenger application owned by the Facebook has now come up with new features in its latest update. The latest update brings the hottest addition that lets the user share status in colourful backgrounds.
The update seems to be a server-side enhancement for WhatsApp in all platforms, including the Android, iOS and Web. With this update, users will be able to post the text status with customised font styles and varied background colours. This can be done from the newly added icon in the status tab look like 'pen' button tap on it, and post your status. The users can also add emojis in their status texts similar to the Instagram story feature.
Facebook introduced the colourful text status update back in March this year, which had been testing since December last year.
The latest update also brings some other interesting features like, users will now be able to add external links within their status text along with its preview will get displayed upon tapping it. While the other updates are found in Whatsapp Web service, that includes status viewing and slack-like emoji searching and insertion.
The Web/desktop platform users can view the status of their contacts and their-own by clicking on the cutout circle on top of the left tab. It'll have a green dot on the latest status displayed on a black screen, users can view and comment from the same screen. The slack-like emoji will let the user find out and send the desired emoji just by typing :happy or :sad the related emojis will be listed on a tab above the text-input area.With the previous update, WhatsApp users were able to Share any file type up to 100MB of size.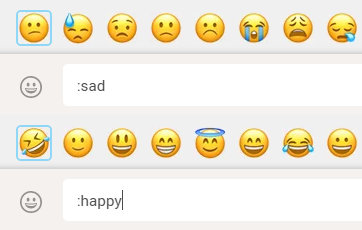 Whatsapp has started rolling out these features in the latest version update, to get the features update your application from the Play Store now. Whereas, the Whatsapp Web version has the new features available via server-side updates. Comment down below your views about the Facebook owned Messenger's latest features.