This year's Halloween falls today, October 31st and we all are waiting for the children's trick-or-treating for this year. Time changes with the time zones, so the Halloween is only hitting in many countries and many have passed the Halloween celebrations. However, you might be looking for some Halloween ideas to test out this year. The scary day is here and here are some.
In this article, we list out you some of the best android apps available out there to help you with the Haloween ideas and costume ideas. Hell yeah! let the trick-or-treating be more interesting.
Top apps for Halloween ideas in Android
Most are only familiar with the traditional pumpkin patches or the party ghost mask which everyone is been using all over the world. If you want to make something creative, check out some of the following apps to get real, working ideas for this Halloween. Happy Hallows eve!
Halloween ideas
The app is developed by Buzzapps, made for Halloween ideas offline on your Android smartphone. It comes with thousands of ideas that inspire you to make a variety of masks, costumes, food items, to cop up with ts year's Halloween. Instead of animations or illustrations, the apps packs real-life images for the better and faster idea depiction.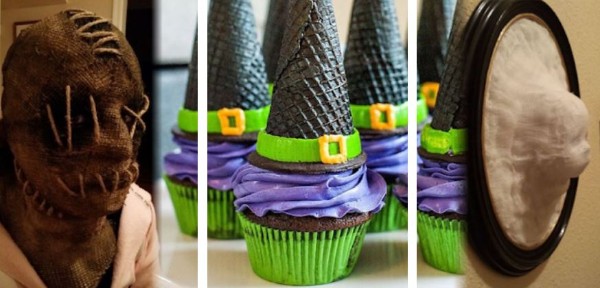 Get Halloween Ideas from Play Store.
DIY Halloween Costumes
If you are so bored of the neighborhood ideas of costuming int his Halloween, you should try the app. The DIY Halloween Costumes shows you the best costume designs out there and helps you with it. You will love the app, say developers. The costume design is also important to frighten and entertain others, so go with it. The app can show you the low-cost methods to make costumes and dresses suitable for kids of all ages, with traditional style.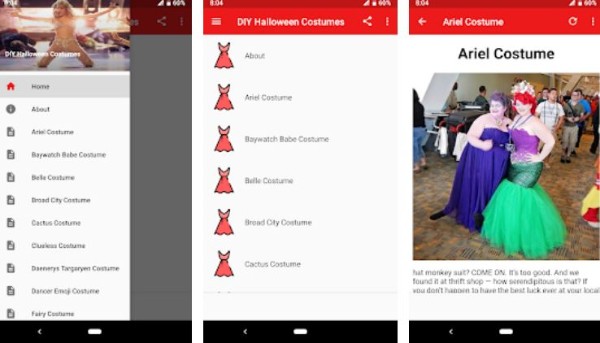 Get DIY Halloween Costumes from Play Store.
Halloween Decoration Ideas
Ar you still thinking about the interior decoration for your home for children in the Halloween day? Here is the solution. The app can show you the best Haloween design ideas for your home, living room and bedroom. Get scary (AF) and muse your children. It is a complete gallery app to show you the real-life images of the Halloween decorations. You can easily imitate them without a doubt. The app for Halloween Ideas might help you with decorating your home using Halloween themes kinds of stuff. Go ahead!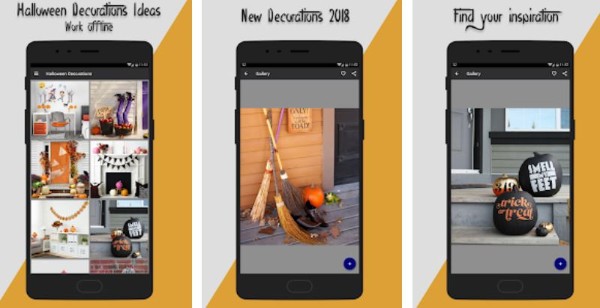 Get Halloween Decoration Ideas from Play Store.
Halloween Makeup Photo Editor
Leave the real-life matter that your child is going for a trick-or-treat among your neighbors. In case you are trying to frighten others with photographs, yeah, scary photographs, this is for you. Instead of many other standard editor apps, the Halloween Makeup Photo Editor helps in editing your face into a scray loo using the preset masks on the app. This is perfect for trying out the scray pranks in this digital era.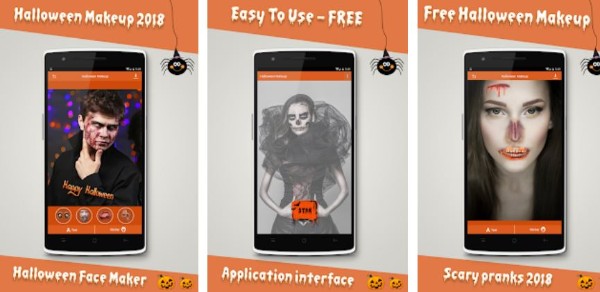 Get Halloween Makeup Photo Editor from Play Store.
Halloween Cake Ideas
Gosh! Scary cakes everywhere. This is quite common during Halloween and never mind. Here is an app for you to make much more scary cakes to frighten others. One of the most working Halloween ideas is the cakes. You can shape them, mold them into any style and you will be the master this night. The Halloween Cake Ideas app helps you with that.
Get Halloween Cake Ideas from Play Store.
There are still many apps available on Google Play Store. but, we listed only the most helping and interesting ones. You can go and search for other many apps in the Play Store if needed.