Chinese based benchmarking platform ANTuTu has announced the top 10 performing smartphones in AnTuTu benchmark tat has been launched till the May month. The updated list has introduced a surprising guest from Taiwan to the top end of the list, defeating the iPhone 7 Plus – HTC U11 flagship smartphone.
From the very first launch of iPhone 7 Plus, it remained at the number one position in AnTuTu listing. From now onwards, the HTC U11 becomes the first smartphone (especially Android running) to defeat the Apple iPhoe  Plus smartphone in AnTuTu benchmark results. The HTC U11 gained around 6000 scores more than iPhone 7 Plus, which is considerably higher compared to recently launched flagship smartphones. It is obvious that the HTC has used the same Qualcomm Snapdragon 835 Chipset under the hood of the smartphone, which is being utilized by most of the 2017 flagship smartphone including Samsung Galaxy S8, S8+, OnePlus 5, etc. But the HTC may have attained this level of performance by making a sure tweak on the software side, which could boost the performance. So, it is now clear that the hardware configuration doesn't do as much as the software side configuration do.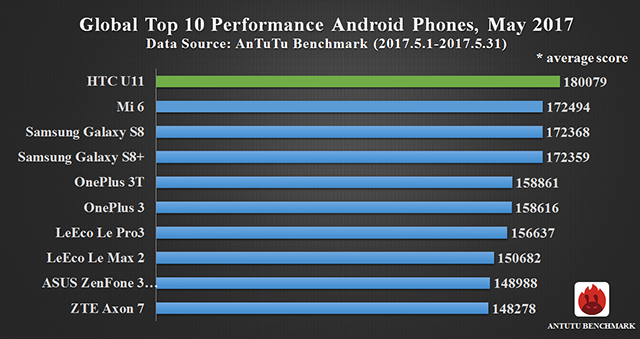 Coming to the bottom of the list from the top, following HTC U11, we could see Apple iPhone 7, Xiaomi Mi6, Galaxy S8, Galaxy S8+, iPhone 7, OnePlus 3T, OnePlus 3, LeEco Le Pro3 nd Le Max2. As the list has been updated only for the month May, the latest flagship killer from OnePlus, the OnePlus five would possibly be listed on the either of the most top positions from June listing onwards. The HTC U11 smartphone scored 180079 average scores while the iPhone 7 Pls has got only 174299.
Analysis
As we observe closely, all of the recently launched devices such as LG's flagship LG G6 and G6+ devices couldn't get into the top 10 list at least, at the same time last year's OnePlus and LeEco smartphones which boast Snapdragon 820/821 chipsets are listed though. On the other hand, HTC had done a great job in deploying a perfectly made smartphone with best DxOMArk scored camera, unique gesture features, best build quality and now with the best-scored smartphone in AnTuTu. As the company is till not running as good as the earlier time, it is appreciated that they have not yet compromised in giving out the best in them. Also, making Pixel hardware and upcoming Pixel2 hardware lead the company to manufacture a highly sustainable smartphone.