The South Korean smartphone manufacturing giant Samsung has just announced the company's latest addition to the flagship lineup Note series – Galaxy Note 8. The Galaxy Note 8 comes with the dual-camera setup on reward, including a telephoto zoom lens. As usual, the company must be working on another smartphone in S-Series, the Galaxy S9. The successor to the Galaxy S8 is expected to launch by the first quarter of 2018. So far, we have not yet witnessed so much leaks regarding the smartphone. Surprisingly, here we have got a leak for the Samsung Galaxy S9, reveals the supposed renders of the smartphone.
This could be one of the first renders which have been hitherto leaked. The leaked renders were from some unknown sources. Here is the one: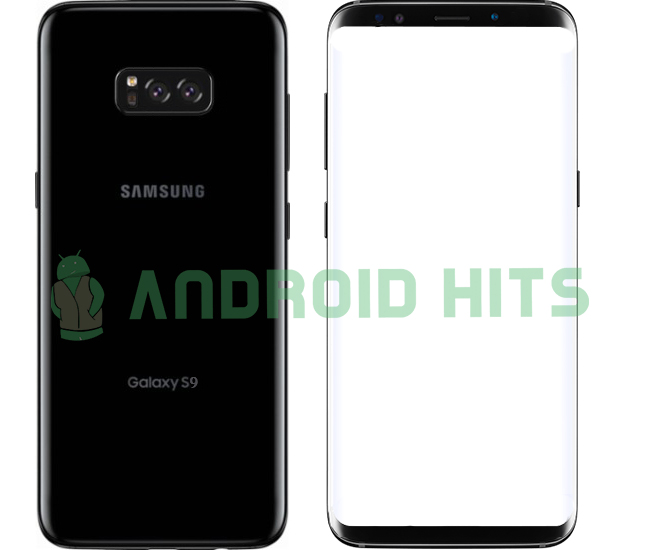 Concerning the new set of renders, the overall making style of the device has not been changed much yet. The smartphone has a dual-camera setup on rear, as we all have anticipated. Both the camera modules on rear department are placed horizontally, same as that of Galaxy Note 8. There is no absolute camera protruding bump, the flashlight is placed on the left side of the camera sensor. One of the dual-lens must be of Telephoto zoom lens, capable of at least 2x optical zoom. Nothing much changes have been discovered on the rear panel.
Coming to the front, the top and bottom borders have decreased a bit, and the bezels and display size seems to be the same. As the company have faced some issues with App resolution compatibility due to the 18.5:9 ratio, we are expecting a ratio change to better option with the the device. There is no physical fingerprint scanner seen mounted, either in front or back. There could be a bigger chance that the Samsung would add the fingerprint scanner under the display, using the Qualcomm's Ultrasonic Fingerprint technology. Lately, the company has failed with the same innovation while implementing to the Galaxy S8, due to the lacking of tech and security. The sensors on top still exist, but their positions have been relocated while noticing.
The sensors on top still exist, but their positions have been relocated including selfie camera, while noticing.