Samsung has just made their latest flip phone official in China. The device is built in clamshell form factor, with two displays of both 4.2 inches. The overall theme of smartphone's design consistent of Black and Gold which makes the device look premium. The smartphone was spotted on Geekbench several days ago named SM-G9298, as the successor to W2017 launched earlier this year.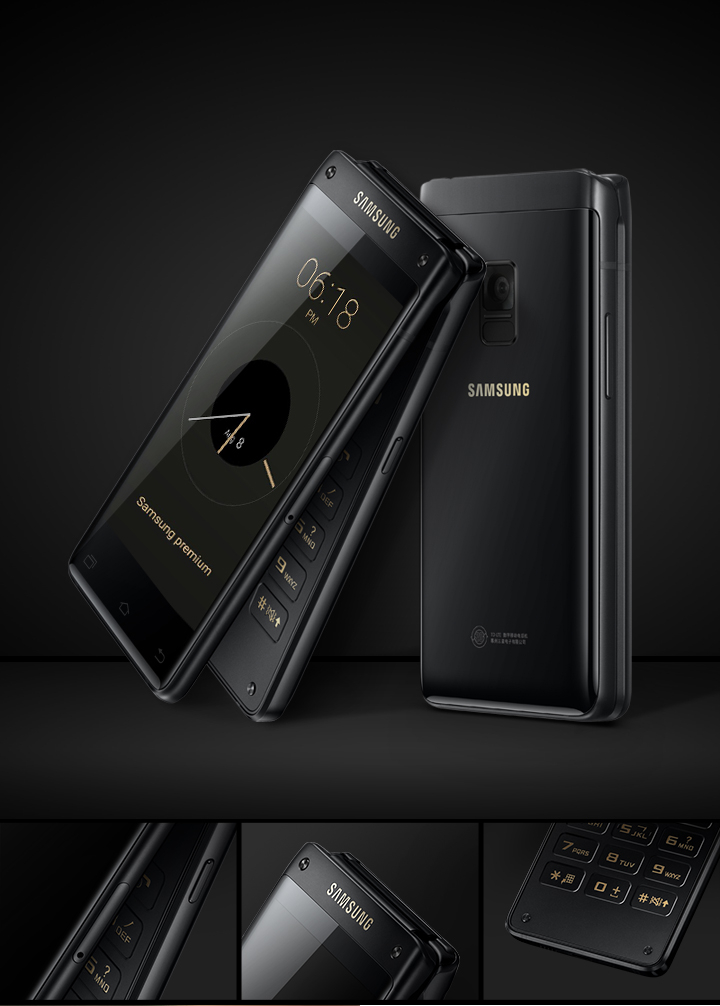 The newly launched device is named as 领世旗舰8 in Chinese, translated to Leadership 8. The device comes with two displays, one comes inside the clamshell and other on the exterior which is helpful in looking up notifications and all without even flipping the device. Both the displays are Samsung's Full HD AMOLED panels and has 2.5D glass overlay. The always on display feature is available with the secondary one, which doesn't consume much energy but will be glown all the day. The smartphone is powered with Qualcomm Snapdragon 821 SoC, paired by 4 gigs of RAM. The rear camera is of 12MP dualpixel sensor with f/1.7 aperture size which is almost similar to the previously launched flagships from the company. The front facing camera sports only a 5MP sensor with f/1.9 aperture.
Besides the rear camera, the Fingerprint Scanner has been mounted along with flags and other sensors. The 2300 mAh battery could make the device stay along all the day even with the Always-On display. Samsung has also integrated a chip-level folder security option with the device, which is unbreakable by any mean of coding hacks.
The Samsung Leadership 8 is currently exclusive only for China Mobile and won't support any other carrier aggregation. As the Samsung chooses China as their experimental geo for latest devices and tend to launch in other countries later, we can expect the device atleast in any of the Asian countries sooner.