The smartphone industry undergoes technological changes and innovations faster than ever before these days. The manufacturers are working hard to bring better usability to the consumers with newly developed technologies. Mainstream smartphone manufacturers like Huawei, Vivo, and Samsung are in the race to bring more and more features, especially regarding the display. The latest addition to the rig by Samsung is SoD, aka Sound on Display.
What is Sound on Display?
Well, the SoD, Sound on Display feature does not need much introduction if you were updated with the latest technology news. Before entering into the Samsung's Sound on Display, let's talk about some other similar technology.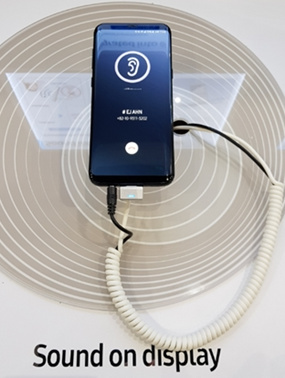 Back in 2016, Xiaomi released its experimental smartphone with no bezels and vents on the front – Xiaomi Mi MIX. The smartphone uses a piezoelectric vibrator within the body, stuck behind the display panel to act as an earpiece speaker. So, the smartphone does not need any external vent for earpiece speakers. The entire device vibrates and outs the sounds in excellent quality.
Alright, the similar technology is used with the Samsung's Sound on Display. Similar to the Xioami, the Samsung uses either a piezoelectric chip or some other vibrating devices to deliver the voice clearly to the users. So, you can listen to the caller over the phone, by putting the ear anywhere touching the device.
Also, it seems the Samsung has already succeeded in developing the feature for commercial purposes. Therefore, it is very likely for Samsung to implement the same in upcoming Galaxy S10 flagship by 2019. If the company goes with it, this can help reduce the bezels from top chin substantially.