Korean manufacturer Samsung has just reportedly updated their own Mobile Payment system Samsung Pay, with an additional support to the Google's newly released Operating System version  Android 8.0 Oreo. With the new update for both Samsung Store and Play Store versions, the Samsung Pay would be functioning completely without flaws (hopefully) on Android Oreo.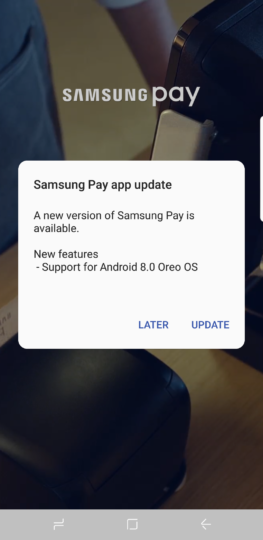 Samsung had introduced its own Mobile Payment system Samsung Pay based on NFC and Magnetic Reader, even before the Android's Original creator Google released its Android Pay system. The Samsung Pay has been launched for Samsung's early-flagship devices in S-series and Nite series, which was a trump card in Samsung's top-tier smartphone series back then. Later by the beginning of this year, the company had introduced the Mini version as well the original version to the several midrange and premium devices, apart from the flagship smartphones. Many of the devices in Samsung's Galaxy S, Note, A, J and C series smartphones are currently compatible with the Samsung Pay and they had already extended the support to some of their latest wearables too.
With the release of Android Oreo supporting version of Samsung Pay app this much earlier, the company proves that the official Oreo updates for several devices are oncoming. It already has been reported that the Samsung had started pushing out the Beta versions of forthcoming Oreo updates for some of the selected users of Galaxy S7, S7 Edge and S8 devices.