Samsung has launched the Galaxy S9 and S9 Plus flagship smartphones earlier this week, with top-notch hardware specifications onboard and claimed to be a faster and one of the best cameras in the smartphone industry. After all, we have been waiting for the DxOMark ranking, which is a camera benchmarking platform for both smartphones and digital cameras. Now, the DxOMark scores for the Galaxy 9 Plus are out, and the results are jaw-dropping. Samsung's new flagship device has managed to surpass the current champions Google Pixel 2 and Apple iPhone X.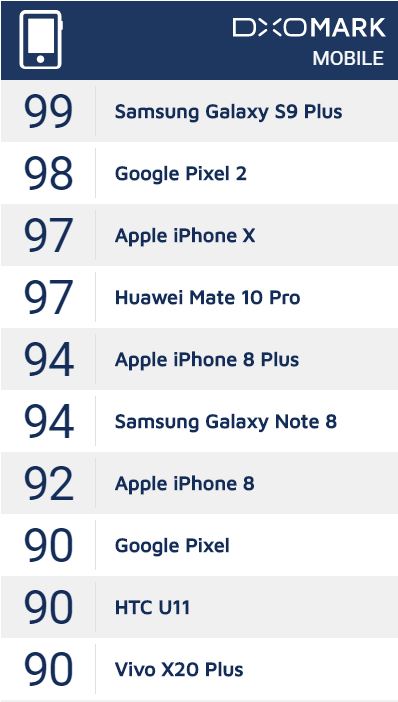 The DxOMark has published the test details for the Galaxy S9 Plus. Before that, let us have a look at the camera specifications of the smartphone. For the first time in smartphone history, the Galaxy S9 and S9 Plus came with dual aperture technology on a single camera lens. The S9 has only single camera lens provided whereas the latter sports dual-camera setup. The primary lens in Samsung Galaxy S9 Plus is of 12MP resolution, having a dual aperture of f/1.5 and f/2.4 for various purposes. The secondary lens, as usual, is an optical zoom lens with 2X zoom capability, sporting an aperture width of f/2.4. Both the sensors have OIS (Optical Image Stabilization), just like Galaxy Note 8.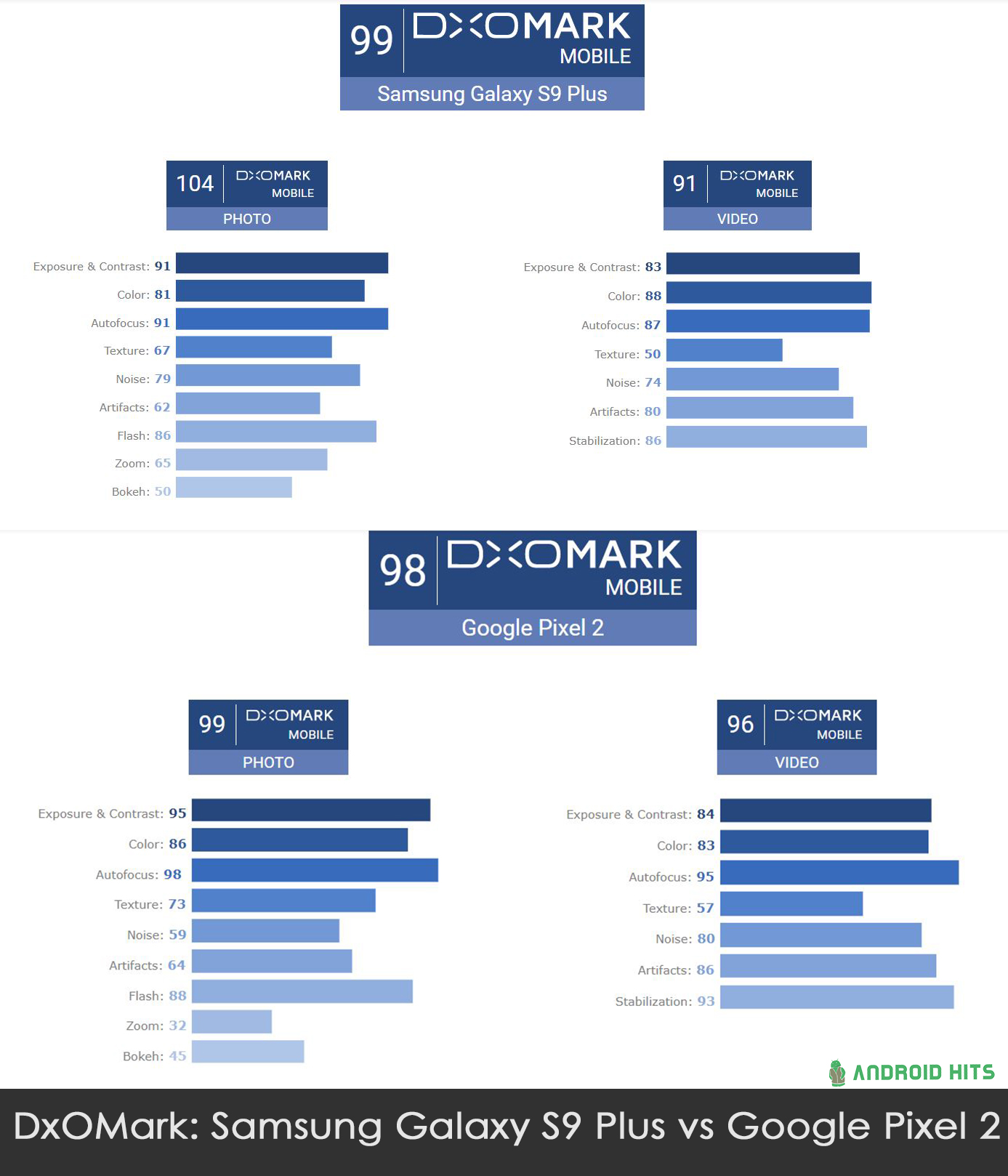 Samsung introduced a bunch of camera features along with the flagships at MWC, including 720p Super Slow-mo @ 960 frames-per-second. The main camera lens will automatically adjust itself to the aperture of f/2.4 from the normal (f/1.5) while shooting videos at high frame rate.
According to the test results by DxOMark, the smartphone performs very well in outdoor/bright light conditions, but some artefacts on the taken images still there. On the other hand, the default high aperture rate of f1.5, which is the greatest in smartphone industry right now, helps in capturing more light during low-light conditions. Zooming and Autofocus are well doing, but the noise reduction techniques may lower the detail in some spaces, quotes DxOMark.
With a total photo score of 104, the Samsung Galaxy S9 Plus achieves the highest score for still images in our testing yet.
Even though the smartphone leads in the photography scoring, it is still lagging 5 points behind of the Google Pixel 2 in video recording. But in overall, Galaxy S9 Plus carried off with 99 scores, even when the Pixel 2 has better scores in individual sectors. Let us remind you that the game is not yet over with this. Ther are still a lot of smartphones, however, to hit with the DxOMark, including Sony Xperia XZ2 which is capable of shooting 960fps super slow-mo video at 1080p resolution. It is not sure whichever smartphones would manage to hit the top of the list.
Stay tuned with AndroidHits for more!