Samsung is getting ready to launch the Galaxy S9 and S9+ flagship smartphones on this 25th, just a day before the MWC 2018. The company has not been announced anything regarding the smartphone, even the existence. But we have seen a lot of rumours and leaks so far. Now, the smartphone is just spotted on Geekbench browser, one of the most popular Benchmarking platforms for CPUs.
Samsung Galaxy S9 with the model number "SM-G960F" shows the basic internal hardware specs including the RAM and processor. As like the last time the Galaxy S9 will have only 4GB of RAM this time too, which is quite enough for a powerful smartphone these days. The motherboard version of the smartphone is universal9810 which is made for Samsung's in-house Exynos 9810 System on Chipsets.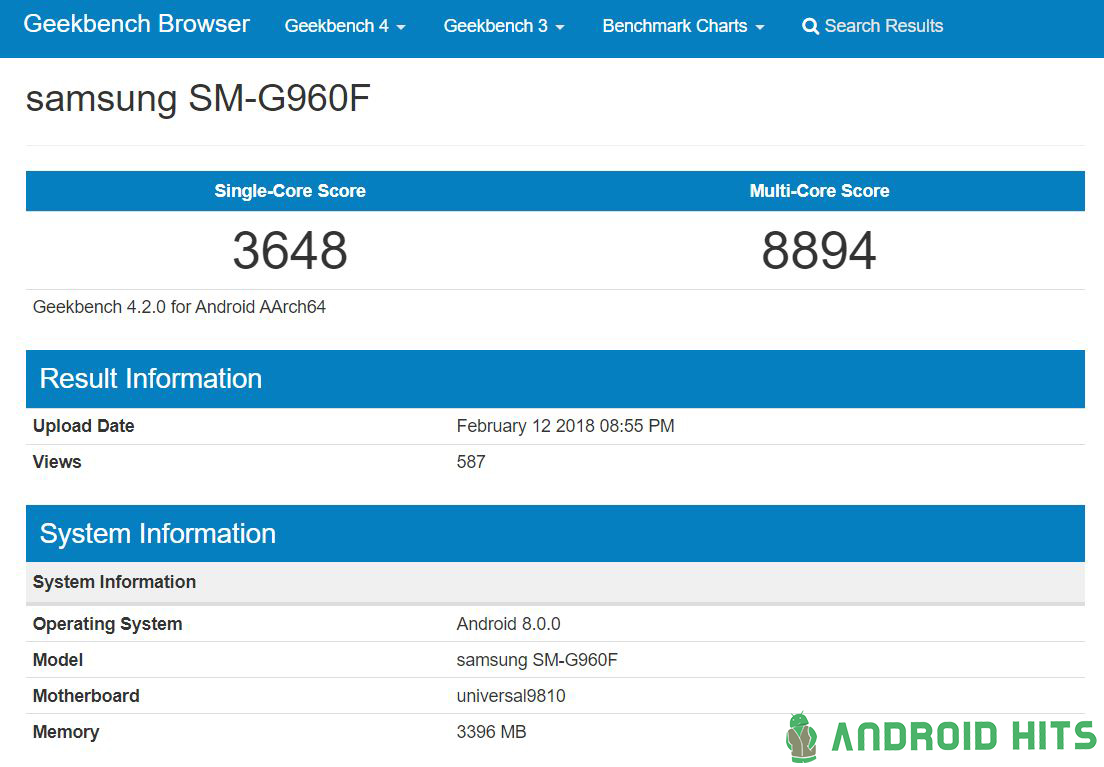 As per the Geekbench score information, the Samsung Galaxy S9 (SM-G960F) powered with Exynos 9810 and 4GB of RAM scores 3648 in single-core performance and 8894 in multi-core performance. From the scores, it is obvious that the Exynos 9810 has managed to surpass the Qualcomm's Snapdragon 845 in performance. However, Apple A11 Bionic Chipset is still the best among smartphones with over 4200 scores in single-core and 10000+ scores in multi-core performance.
Samsung Galaxy S9 would be featured with a 5.8-inch Super AMOLED display with a curved edge (infinity display), in case you manage to recall.. The smartphone will come in two variants, one with Snapdragon 845 and the other with Exynos 9810, paired with 4GB of RAM onboard. The higher variant, Galaxy S9+, will have at least 6GB RAM and a larger display, with the rest hardware specs remaining the same.
Stay tuned with AndroidHits!