We got our first ever look on the new Note 6 or Note 7 with the new renders that leaked and some features ahead of it's debut in September. The Exclusives blueprints are leaked by @Onleaks. The New Design is Identical to the S7 Edge Design. It will feature a USB-Type C. Probably, the first Samsung handset to Upgrade from Standard USB to USB-Type C. USB-Type C will feature fast Data transfer and Of Course, fast Charging. Sources informed that the Screen Size is in between 5.7″ and 5.8″.
Here we go again!Your very 1st look at #Samsung's Next Big Thing,on behalf of @uSwitchTech! https://t.co/DbRoVLvHk8 pic.twitter.com/sIewRBXuvI

— OnLeaks (@OnLeaks) June 3, 2016
The Phone Dimensions are around 153.5mm x 73.9mm x 7.9mm. It is yet unconfirmed that Samsung will Skip Note 6 to Go with Note 7. We aren't sure about that yet.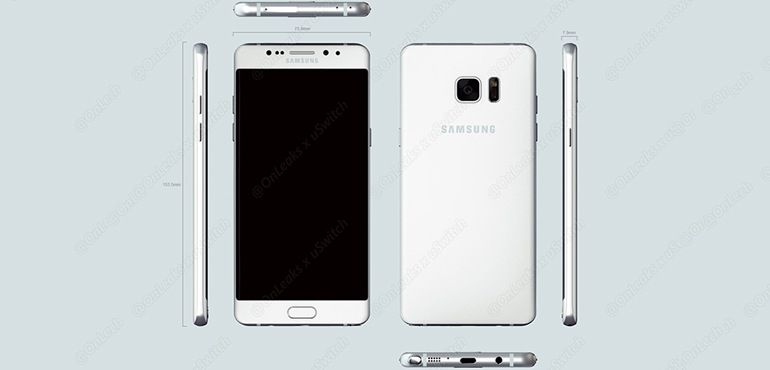 Design
The Latest leak shows a sexy design. See the Pictures below.
Specifications
There will be following upgrades:
Screen Upgrade
Note 5 has 5.5-Inches Big Screen Whereas the New Note 6 will feature 5.8-Inches with a resolution of QHD or 2K
Bigger Battery Life
Samsung will be upgrading the Battery from 3000mAh to 3700mAh. (According to PhoneArena). Possibly, it can be a Removable battery.
Water Proof
The New Note 6 will Waterproof and will be protected from immersion in water with a depth of more than 1 metre.
USB Type-C
There will be faster USB type-C instead of Standard USB. That will be good for faster Charging and faster Data Tranfer.
Superior Software (Not Android N)
Possibilities are the Note 6 will come with Marshmallow out-of-box and may be eligible for Android N Upgrade.
What's the Cost?
Expected to be between $870-$950 outright or $60-$70 on Monthly Contract.
What's the Release Data?
The Note 6 will come to market in August.