We have seen a ton of rumors and leaks about the upcoming flagship killer, the Samsung Galaxy Note 8 smartphone. The rumor mill is still working. A new tip suggests the launch date of the Galaxy Note 8 devices. According to a report by a South Korean website The Bell, the devices would launch officially in mid-August.
Still, a long way to go, the Galaxy Note 8 is 2 months away from us. But we don't have any official confirmation about the launch date of the device yet. However, the device has leaked multiple times in various forms including press images, renders, and concepts. According to the new report by the Bell, the devices will arrive ahead of IFA 2017 which has been scheduled for August.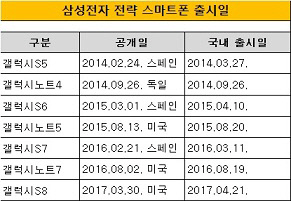 Last year, Samsung rushed to sell the Galaxy Note 7 units, but it ended up with burning batteries. So, let's hope Samsung won't play aggressively this time. However, the launch of the Galaxy S8 was quite delayed, so let's expect a delayed launch for the Note 8 too. At the same time, rumor suggests that the company will start selling the devices before the iPhone 8. Anyway, Samsung is working hard to bring a perfect competitor for the Apple iPhone 8. Stay tuned for more updates on this news.