Ridaex is an Indian company which has got so much attention in the industry with its unique product quality and smart range of smart televisions. Ridaex smart TVs have become one of the most trending product in the smart home appliances market. The company has just launched its newest smart TV series to the Indian market, ie; Ridaex RE Pro 2019 series. This series comes with 4 new and refreshed models with advanced features and functionalities. The devices get updated hardware and software support as compared to the predecessors.
The new range of Ridaex RE Pro series comes with 4 different screen size variants. That is 43-inch, 50-inch, 55-inch, and 65-inch. They cost Rs. 24,999, Rs. 34,999, Rs. 44,999, and Rs. 69,999 respectively. All these models are available online at their e-store. The lowest variant supports only Full HD resolution, whereas all other variants support 4K screen resolution. The RE Pro 2019 series of smart TVs come with Android TV 6.0 Smart OS (Marshmallow) based operating system out of the box. The lower variant comes with 1GB RAM and all other variants feature 2GB RAM. This series has 8GB internal storage space, which is more than enough for the users to download a great number of supported apps.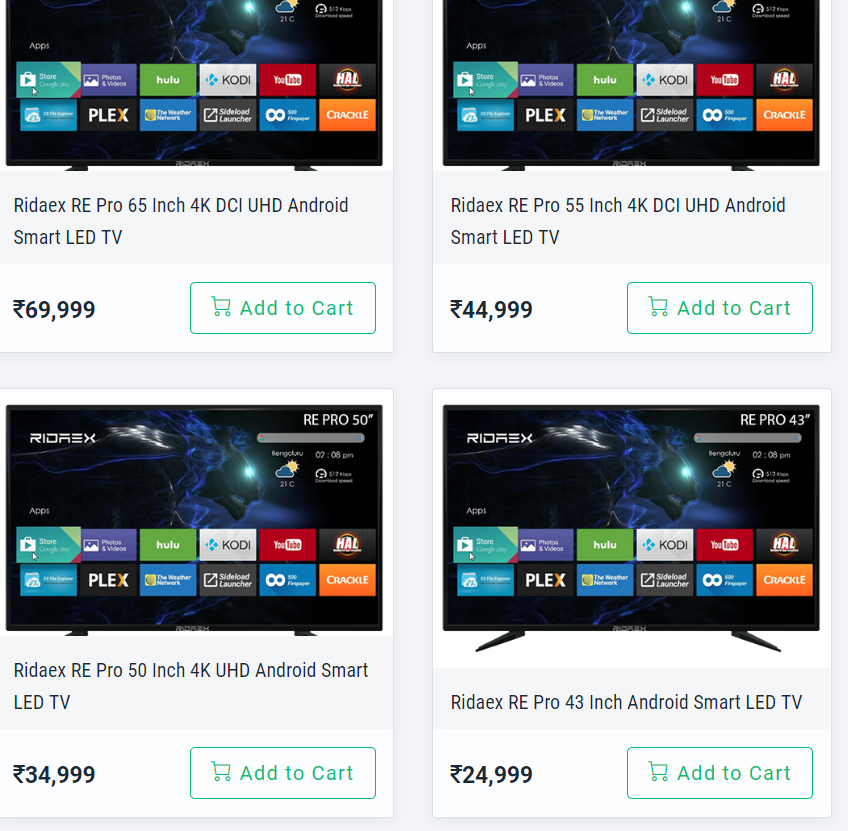 Ridaex RE Pro 2019 is successor version of Ridaex RE Series launched in August 2017. RE Series are the first models ever launched by Ridaex and second largest sold series after Ridaex Nuke V2. RE Series ran with Android 4.4 back then in 2017 and was one of the most advanced. According to the official information, the top noticeable remark of RE Series was it's least failure rate of 0.03%. The new updated series come with much better functionality and Marshmallow based operating system, which improves the performance and eliminated the failure rate of the TV. The RE Pro series features 16 W Right + 16 W Left Dolby Audio system which can deliver an ultimate audio experience for the users.
Overall, Ridaex RE Pro 2019 series of smart TVs are a great choice for everyone who is looking for a great smart TV to change your media-consuming experience at a much more affordable price for the Indians. Ridaex puts a strong competitor to battle with the leading giants in the smart television industry.