Android smartphones are powerful, reliant, and efficient nowadays; featuring hardware specifications almost equal to a medium-level PC. At the same time, Android has its own flaws like RAM eating, especially when the phone storage is filled with many Apps and games. As the time goes on, the efficiency of a Smartphone or even any Consumer Electronic gadget will lose it glory, capacity, and efficiency eventually, by hardware and software side. Also, the dumping of Junk files and useless caches create issues with the performance of a smartphone.
In order to avoid the main performance problem facing by Android devices, there are many tools available on play store, most of them are likely to be efficient for background usage. The DU Speed Booster & Cleaner has gained popularity among Android users with its various levels of cleaning and boosting the Android system, which provides more efficiency. The app can be considered as the one among the most trusted System tools available for Android these days.
The DU Speed Booster & Cleaner App is developed with a nice, fictitious looking Blue themed end UI with various functions easy to use. There are six options shown on opening section, five of them works independently within the the app. Also, there is a hamburger slider comprised of options to Settings, DU Swipe, Smart Charge, Notifications, etc.
Features
DU Speed Booster & Cleaner has many features, which needs a description – but easy to use with a glance.
Overall Boost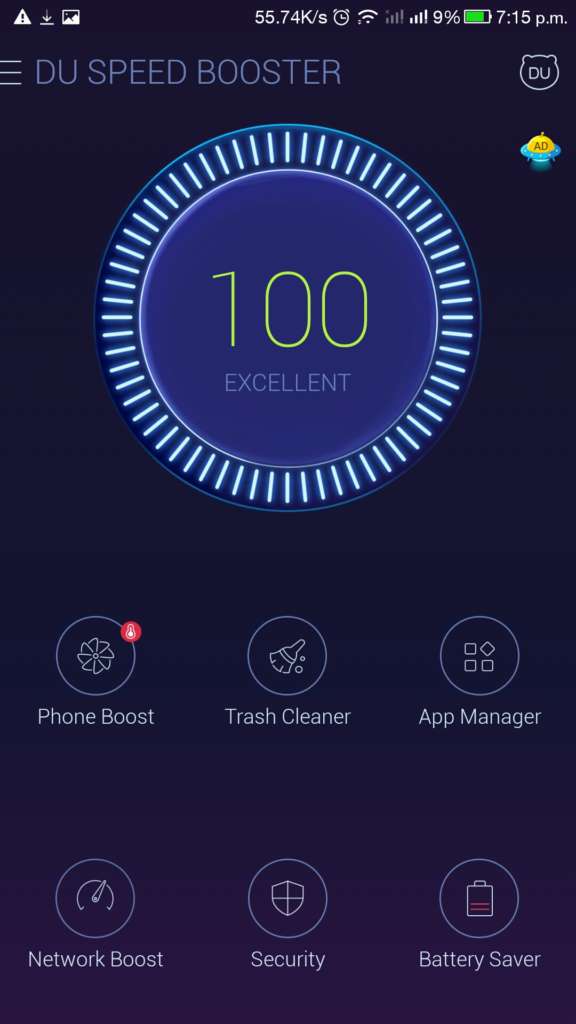 The overall Boost option just wipes out RAM, few junks and closes some background apps which are crucial to need to be power efficient. This does not do powerful boosting.
Phone Boost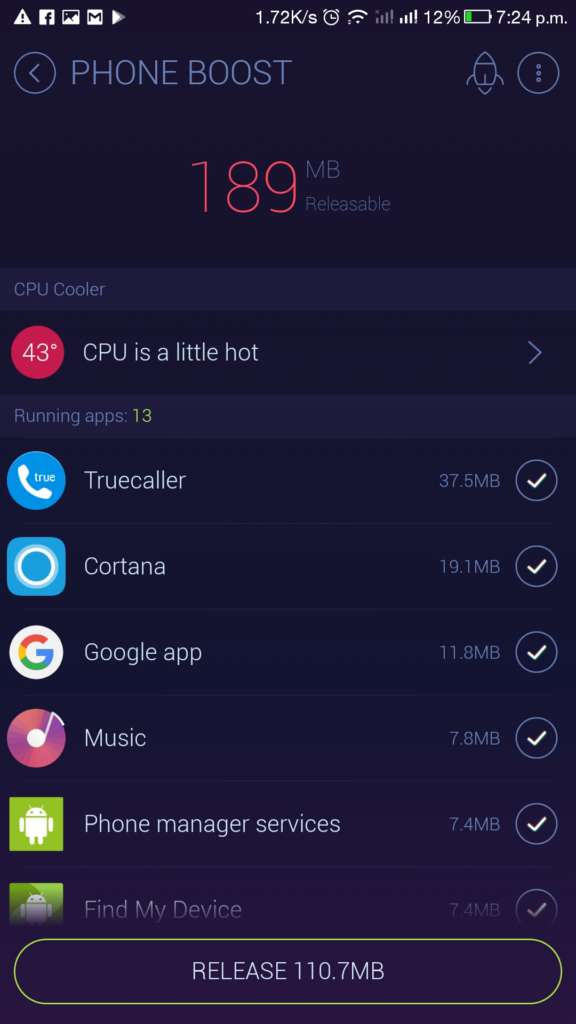 The Phone Boost is actually a memory wiper, which cleans the RAM by ending all unwanted background tasks. It scans and finds the RAM eater Apps so that we can choose whichever apps need to be prevented from cleaning. It also shows the CPU  Temperature and can help to reduce it.
Trash Cleaner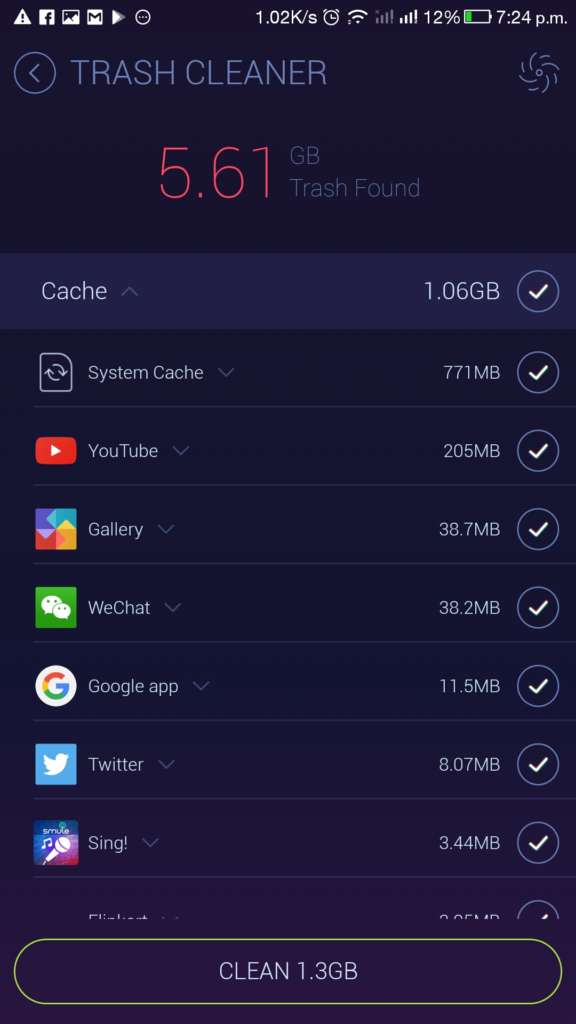 Trash Cleaner searches for Cache, Residual files, System Trash, Memory dump and Junk files. We can choose the files to remove.
App Manager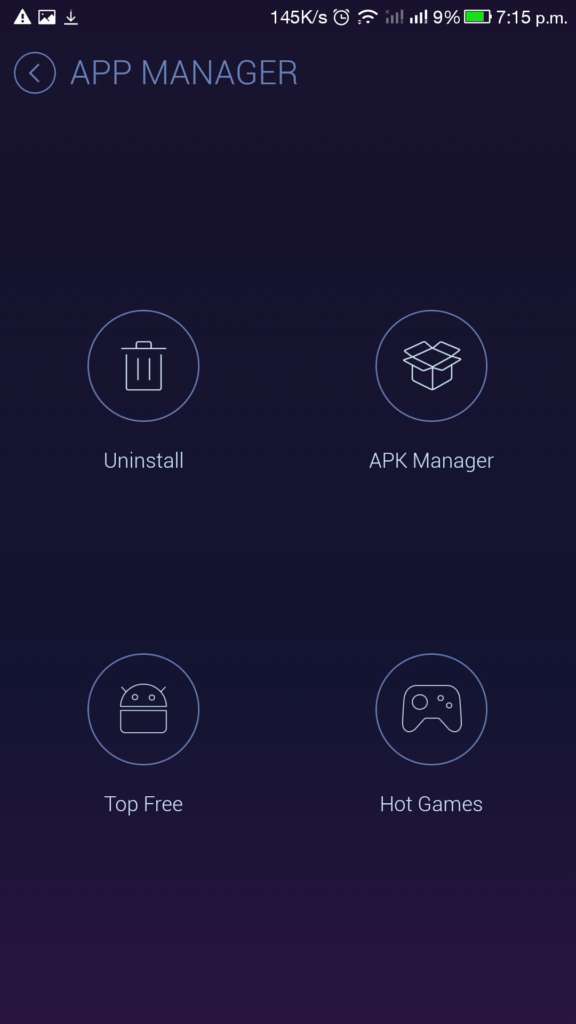 App manager can be used to bulk manage apps on a device and can uninstall selected quickly. APK Manager finds out the APK files, and also some App and Game Promotions listed as "Top Free" and "Hot Games"
Network Boost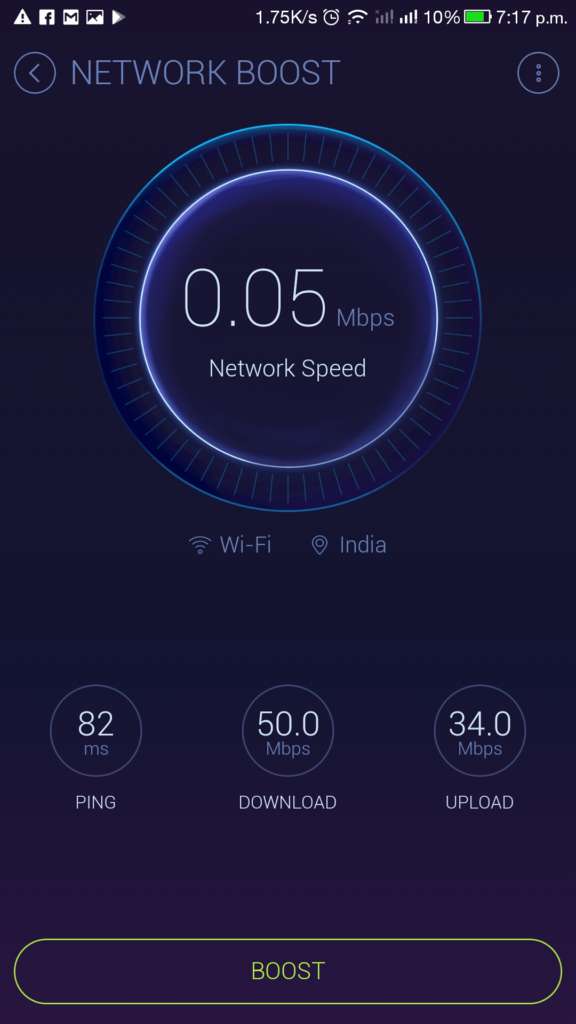 It is simply same as other Network speed testing apps, but when you have DU Speed Booster & Cleaner; you don't need to download any other apps. It also boosts the network usage by closing background tasks using data more.
Virus Scanner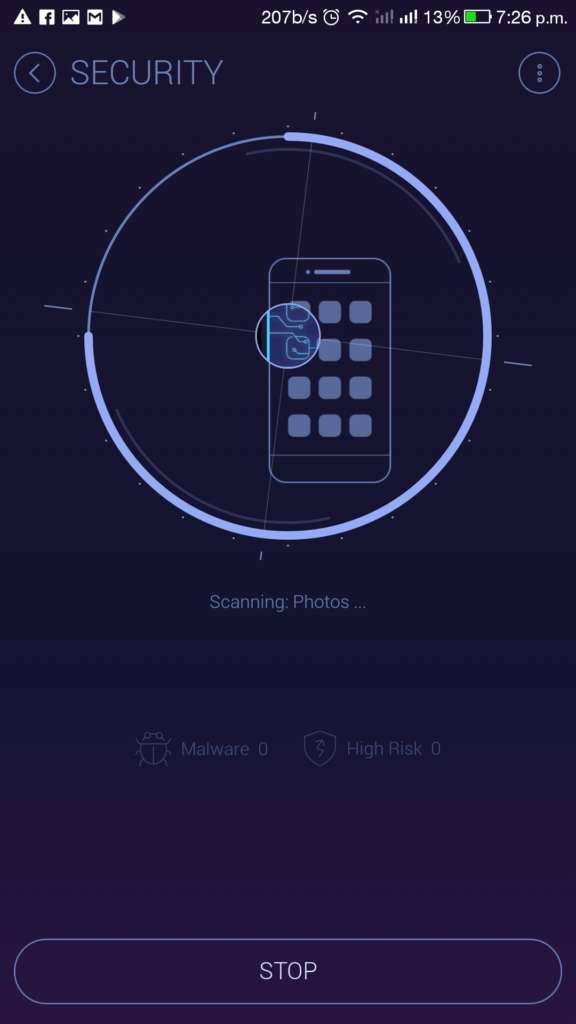 This is just not an Antivirus, bt just an app scanner which scans the name for apps which are listed as Malware. I can also find and alert against Internet threats.
DU Swipe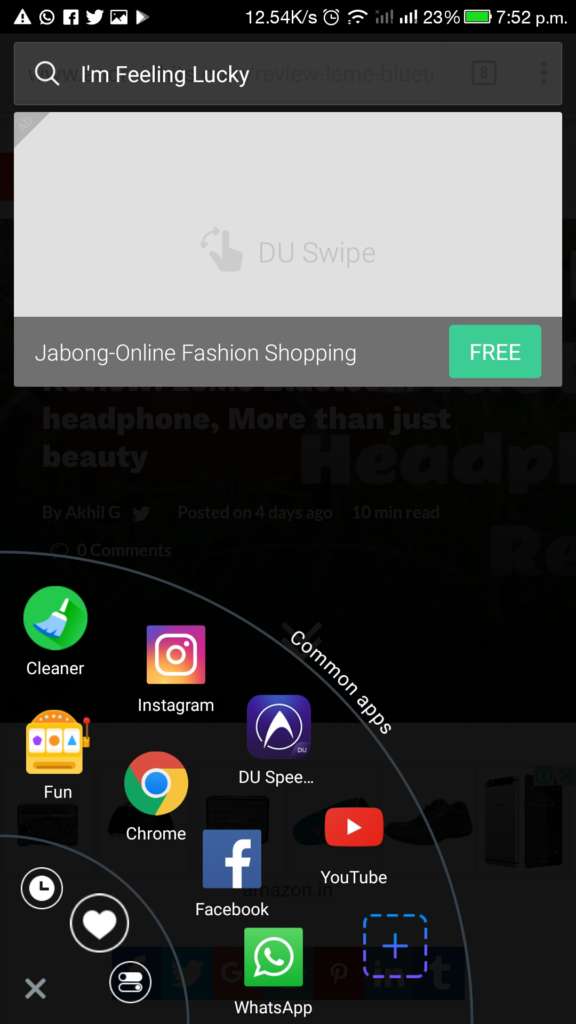 It is like a floating widget, can be swiped up from the corners. It has a search bar, DU Speed Booster tools, most used apps list and system shortcuts.
Battery Saver
As the name denotes, it's a battery saver option. You should need to download DU Battery Saver to use this function.
Pros and Cons
Pros
Cleans RAM
Decreases CPU Temperature
App management
Less power and memory consumption
Easy to use
Many useful shortcuts and widgets
Phone info section
Cons
Heavy sized
Many Ads
No complete Antivirus
The Conclusion
If the app has to be described in a single word, it would be "Awesome". It has many features as mentioned above and can keep your device from going down in performance.
[appbox googleplay com.dianxinos.optimizer.duplay]