OnePlus 3T, one of the best powerful smartphones has upgraded into Android Nougat based OxygenOS 4.0.2 last month entirely. The company had promised to bring more features and fixes in following updates soon, and the first update after last months'; upgradations happens today.
The new update brings many features including Wi-Fi IPv6 toggle support and new Access Point Network settings. You can read the complete changelog below: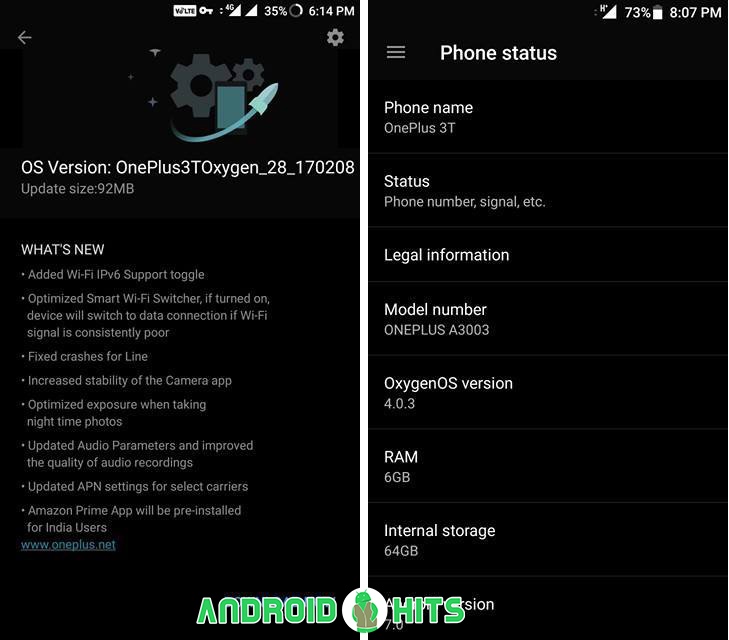 Added Wi-Fi IPv6 Support toggle
Optimized Smart Wi-Fi Switcher, if turned on, device will switch to data connection if Wi-Fi signal is consistently weak
Fixed crashes for Line
Increased stability of the Camera app
Optimized exposure when taking night time photos
Updated Audio Parameters and improved the quality of audio recordings
Updated APN settings for select carriers
Amazon Prime App will be pre-installed for India Users
The new update weighs only 92MB, and it adds the features above. The only known issue with the new update is frequent Wi-Fi disconnection, and it can be rectified easily by any of the following steps.
Switch off the IPv6 toggle and enable only IPv4
Disable Smart Wi-Fi switch
The update started hitting most of the users in India, and the users from other countries will get the update soon.
Thanks Jijo JS for the tip, Cheers…