UPDATE : The launch date is actually Jun 14 in UTS, Jun 15 in China.
We have seen many leaks and rumors about the OnePlus's upcoming device OnePlus 3. It has also passed through TENNA on last week. So we got some specifications about the device too. Now an official statement from OnePlus reveals that they will release the new beast OnePlus 3 on Jun 15 at 10AM (GMT +8) in China.
Specifications of OnePlus 3 reads 5.5-inch Full HD display, Snapdragon 820 SoC, 4GB of RAM, 64GB storage, 16MP camera, and a 3000mAh battery.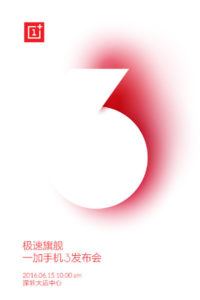 The company has also announced that they are dropping the invite system forever. So you can buy the upcoming OnePlus 3 directly without invite system. Official statement :
" We're releasing the OnePlus 3 invite-free, right from launch day. In addition, invites are gone forever from future OnePlus product launches.
The invite system has a special place in our history. When we first started out, our team was incredibly small. We had no idea what the demand of the OnePlus One would look like. We also weren't fans of flash sales, where there's a risk of everything selling out immediately, forcing fans to wait indefinitely. To address this, we designed the invite system to give customers a chance to purchase a phone as soon as we had inventory ready. " 
Well, are you excited about the upcoming OnePlus 3 launch ? Shout out your thoughts in comment section below.