Motorola's upcoming flagship smartphone in Z series, the Moto Z2 has been spotted on AnTuTu with complete specs exposed. From an earlier published teaser poster by Moto, the upcoming Moto Z2 is expected to launch by June 27.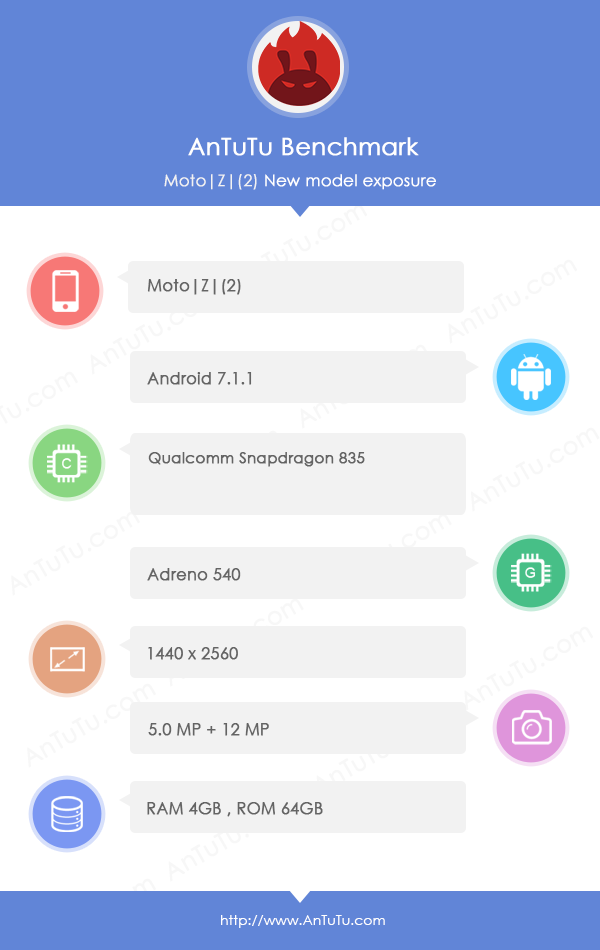 From the new AnTuTu leak, the Moto Z2 will be powered by Qualcomm Snapdragon 835 SoC, paired with 4GB RAM and inbuilt Storage of 64GB. The smartphone has a 2K resolution display (1440 × 2560 px), would be sized around 5.5 inches. The device has dual rear camera sensors with 5MP+12MP resolutions. The dial camera was also obvious from the poster released by Moto, which gave a clear idea about the device's structure. Concerning the design, the Moto Z2 is expected to pack the same design as its predecessor, with almost same dimensions in order to hold the MotoMod add-ons on rear.
From the leak, we have clearly got a picture about the specular properties of forthcoming Moto Z2 flagship smartphone, with top tier specs. The smartphone is expected to have a competitive starting price tag of around $580 or $590 as like the first generation Moto Z. If the company teaser turns out to be true for Moto Z2, the smartphone can be expected by June 27 as a good competitor to Mi6, Galaxy S8, LG G6, OnePlus , etc.