One of the most significant smartphone chipset manufacturers Mediatek is reportedly working on their next couple of Smartphone processors namely Helio P40 and P70, which leaked in the news last month. The chipsets were leaked to carry highly capable processors and architecture inside, along with the 12nm Manufacturing technology which would bring more space for more transistors in the major architecture of the chipset. The semiconductors are yet to manufactured by the Taiwan Semiconductor Manufacturing Company, Limited (TSMC) with their technology, expecting to be unveiled in MWC 2018.
As per the newly leaked specifications sheet of the Chipsets, both the Mediatek Helio P40 and P70 seem to be powered with Cortex A73 and A53 combo, one with 6-cores and other with 8-cores inside. Talking about the Helio P40, the chipset carries the model number MT6771. The System On Chipset is powered with two Cortex A73 cores, clocked at 2.2GHz in total. The rest of the coRes are of Cortex A53 processors clocked at 1.6GHz. The networking is enabled with the Cat.7 modem by the one of the largest 4G LTE modem suppliers in the world, MediaTek, itself. It helps in delivering better networking performance with lower power consumption. The hardware is equipped with the second generation Bifrost-based Mali-G72 at 780MHz.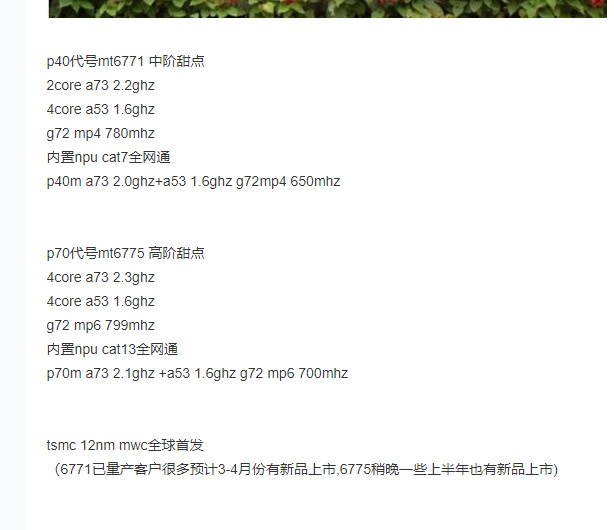 The latter MediaTek Helio P70 is yet more potent with 8-cores embedded. The P70 with the model number MT6775 adopts the same architecture as the Helio P40 with some extra tweaks. We could see four out of 8-cores of ARM Cortex A73, and the other four of A53 clocked at 2.3GHz and 1.6GHz respectively. The Graphics processor used is the same, with 799MHz of clock rate. Unlike the former, the networking capabilities lie on the Cat.13 modem, meanwhile, Qualcomm had started manufacturing chipsets with Cat16 modems.
Both the Chipsets are manufactured with the TSMC 12nm process which will make them both much efficient, and will ignite a tight game in the mid-range chipsets. The leak also suggests that the Mediatek Helio P40 SoC is all set for mass production by early-April and will be shipped with many Chinese branded smartphones including Xiaomi, Vivo, Gionee, etc. The Helio P70 will only be available in smartphones by mid-2018.