LG is all set to unveil their newest smartphone model LG G7 ThinQ in the global market. We have seen a ton of leaks and rumours regarding this smartphone model. Also, the phone has leaked in a press render last week. The official launch date for the G7 ThinQ has been scheduled for May 3. A few days ago, we got a fresh leak of the LG G7 ThinQ promo images. Those newly leaked promo images revealed the complete design and the arrangements of elements in this smartphone.
The newly uploaded promo image by the popular leakster Mr Evan Blass revealed the design of LG Q7 ThinQ. This picture shows the smartphone from the front side, and it looks really gorgeous. As the leak reveals, the phone will have a power key on the side part. However, now some new reports suggest that this is not a power button on the left side of the phone. Instead, it is a dedicated button for Google Assistant. It is just like the Samsung's Bixby button and works exactly same as the Bixby button.
Just like Samsung, LG won't let you re-assign the Google Assistant button to any other function. However, this is Android, just like the developers created third-party apps to re-assign the Bixby buttons, they will surely create one for the LG G7 series. If these reports are true, this one becomes the first Android smartphone with a dedicated button for Google Assistant. Also, it is the first LG G series smartphone with a physical button on the left side. Like the V30S, there will be unique custom LG commands that you can ask of Google Assistant.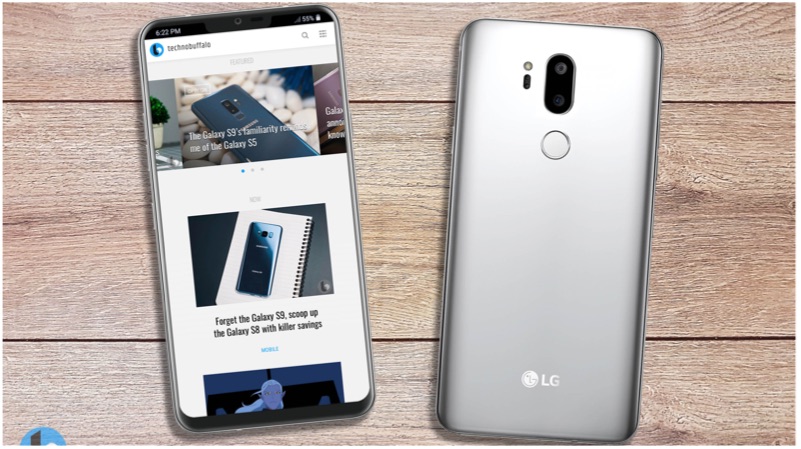 Talking about the camera specifications, the LG G7 ThinQ is reported to come with a dual rear camera setup on the rear panel with two 16-megapixel sensors. A great improvement from the LG V30. The phone will also come with recording and playback support for HDR 10. The G7 ThinQ is expected to sport an M+ LCD display with a panel said to be twice as bright as the G6 and significantly more colourful. The smartphone will be an AI-focused one with more features related to AI-related technology. It is expected to come with Qualcomm's Snapdragon 845 chipset with 6GB of RAM. LG has announced that it will unveil its next flagship at a launch event scheduled for May 2 in New York, followed by a domestic launch in Seoul on May 3.