South Korean smartphone and Consumer electronics giant LG is getting ready to announce new smartphones including flagships in Mobile World Congress 2017. The company has already started sending out invitations for the press meet at Barcelona MWC on February 26th. The flagship supposed to announce at MWC is the next device in G-Series, the LG G6.
LG has already announced the ratio aspects and display size for the upcoming LG G6 flagship smartphone counts to 5.7-inch QHD+ display. It has an aspect ratio of 18:9 (which is actually 2:1) with the resolution of 1440×2880 and 564PPI. It will cover the most part upon the front panel, thus the bezels will get thinner, and the display panel has a thickness of less than 1mm which will make the display more touch sensitive. LG offers an immersive view in LG G6 QHD+ display. Also, the company assures a thinner smartphone this year. Meanwhile, the rest of the specs are still unknown and are rumored to have a great configuration to compete against Galaxy S8.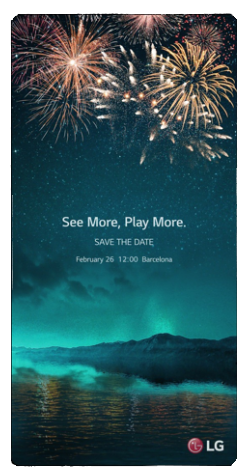 From the invitation banner, LG quotes "See more, Play More" which is almost similar to "Life's Good when you Play More" from last year. The quote hints to a better camera, maybe a dual-camera setup on rear panel same as G5. LG will be dropping their unsuccessful modular design on its new smartphone, but we can expect a range of add-on products along with LG G6, similar to the "LG Friends" came along with LG G5.
In the light of Samsung Galaxy Note 7 battery explosion fiasco, LG has tested their battery for G6 at extreme conditions and adds a heat absorbing pipe to reduce battery temperature. The company has scheduled the launch event for February 26th at 12:00 PM (GMT+1, Barcelona) at MWC and will have a live streaming through Youtube.