InsTube App Review
We love to have each of our favorite youtube videos to be downloaded on our smartphone from Youtuber. Also, it is better to have our own videos getting backed up to our devices for later reference and viewing. For saving videos, it is necessary to have a free youtube video downloader and converter on your smartphone to make tasks easier and reliable. It is not a big deal to get all the videos if you get a good video downloader app on your smartphone, but finding the best is one. Here we review one of the best free youtube and music downloader for Android smartphones. I would say 'one of the best' because I have never used such a good looking downloader app before.
Overview
InsTube is a free Music and Video downloading client application available for Android smartphones. It has many extra features and secure options to make the Video downloading user-friendly.
Design, UI
Basically, Instube works same as that of every Youtube video downloaders live. But in terms of features, the app stands a bit higher than any of the competitors, and you will feel it from the installation screen itself.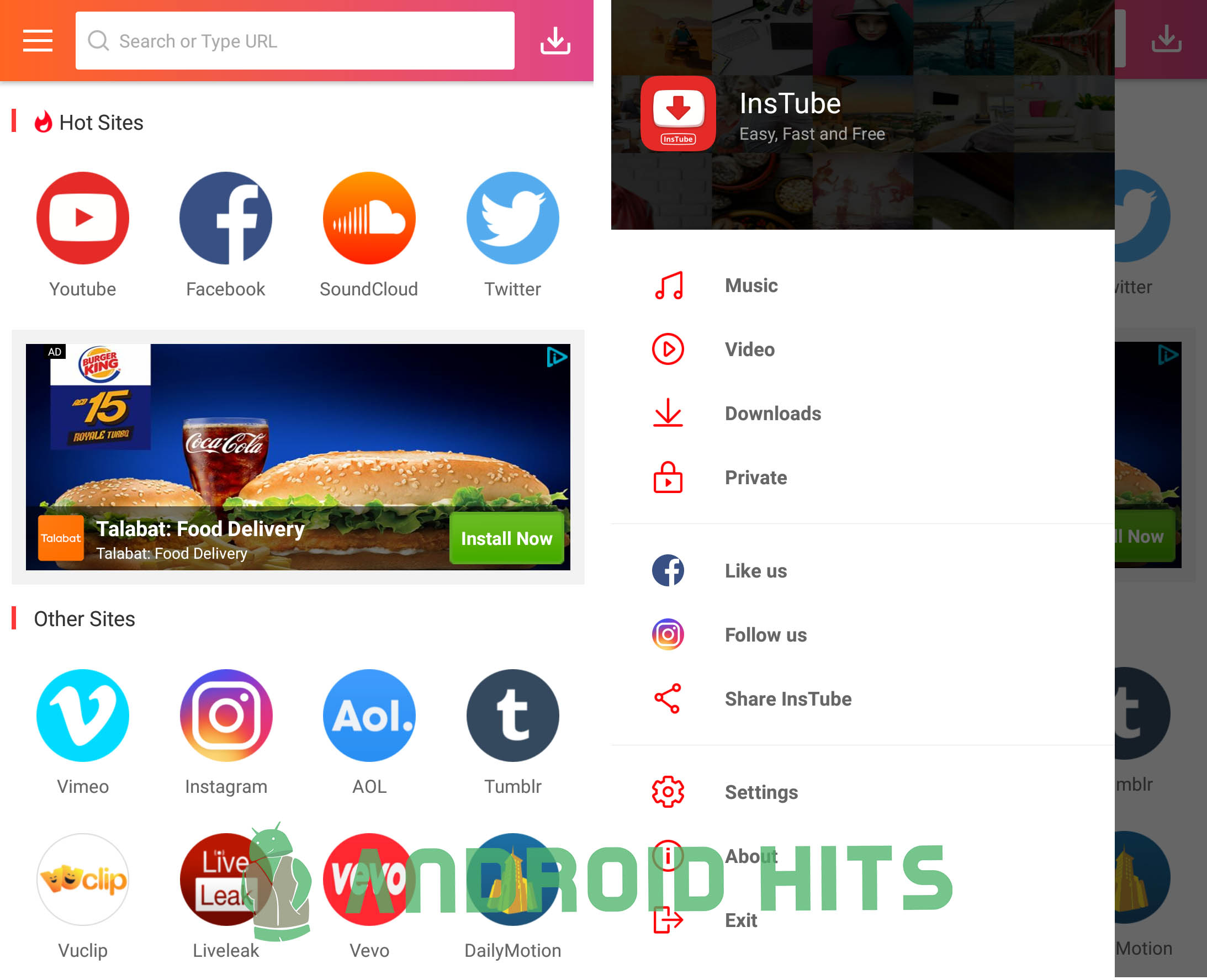 Concerning the App UI, it is just simple and materialistic as well. The app has an Orange-Magenta theme on top along with the white background. The Home page itself has a browser looking setup, where the "bookmarked" icons which point to several video platforms including Youtube, Facebook, Twitter, Vimeo, Instagram, AOL, Tumblr, Vuclip, Liveleak, Vevo, Dailymotion, etc. The address/URL bar on top helps you to search for any keyword on every available social media for downloading, or to put any link in your clipboard.
On the top section icons from Home page view, the often takes to Hamburger slider sidebar where all the extra features and options go, and the right "Download" button shows every downloaded media.
As of every "free" Android app, the InsTube is also embedded with several kinds of AdMob ads. The ads are just shown on most of the windows, and the popup one comes while opening the app. Also, the full-screen video ads also rise during inactivity it seems. Sometimes, the number of Ads may appear a little annoying. Luckily, none of them is misinforming or misdirecting, so easier to distinguish between Ads and app elements.
App performance
InsTube is much faster on in-app controls, and easier to generate download links. You can download any of the videos directly right from the Youtube app by tapping "Share" button and choosing InsTube. If you have any of the video/media links copied, it will automatically convert the link to the downloadable form, as you can download youtube videos free. So it is one of the best Youtube and music downloader out there.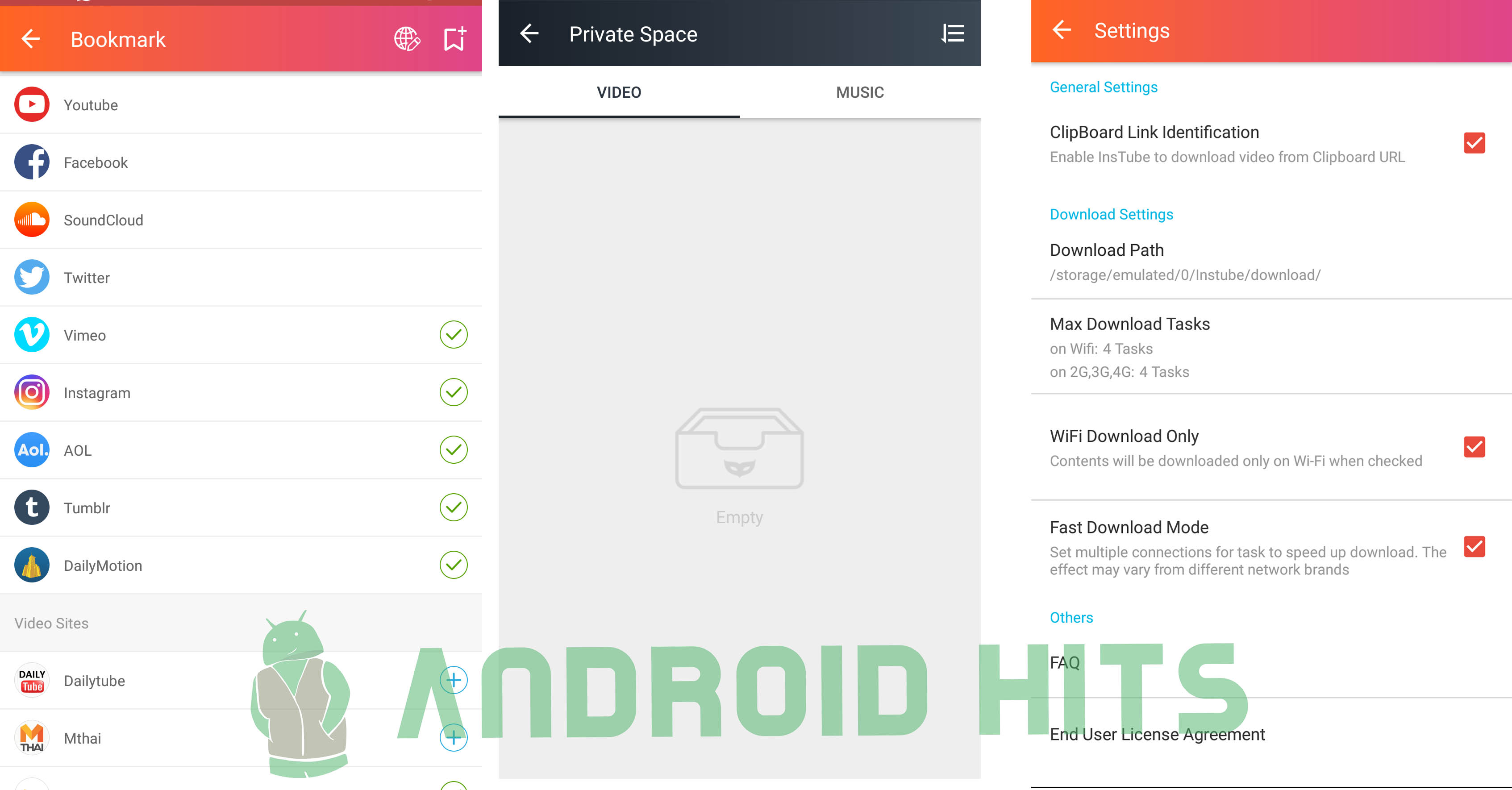 There also some drawbacks in app download section, as far as we have tested several times. When you go for any of the videos from the apps, the flash button for generating download link will come popping. Tapping it, you would be getting download links for the video in every resolution. Here are the available video resolutions available.
M4A
MP3
144P (3GP)
144P(MP4)
240P (MP4)
360P (MP4)
480P (MP4)
640P (MP4)
720P (MP4) HD
1080P (MP4) HD
1280P (MP4) HD
The higher resolution option of 1280P is same as that of 720P with some minor improvements. Additionally, you can choose multiple formats r even the every format to download at a time. Downloaded contents are much clearer than ones from any other video downloaders, even almost lossless Audio clarity too. As we have mentioned, the InsTube app is just not only for the youtube stuff but also can be used in downloading the video or audio contents from any of the popular sites in the list. The supported platform list given in the app is just limited to few dozens, but also will add more sites upon the requests. Currently supported websites are:
Youtube, Facebook, SoundCloud, Twitter, Vimeo, Instagram, AOL, Tumblr, Dailymotion, Dailytube, MThai, Vuclip, Mrpopat, Metacafe, Liveleak, Vidme, Funnyordie, Vevo, Tune, 3GPMania, SAPO, Pinguda, Skymovies, Whatsapp, Vine, Pagalworld, etc.
There is a PRIVATE option where you can set your personal videos to the private listing, which later could not be found using any of the apps. The private section will be secured with four digit PIN.
There is also URL request section from the platform list where you can request for the desired websites to be added to the list.
How to download videos?
It is just easier than you think. Here are several most natural methods you can use for downloading the videos, music or any contents for free from the various platforms using InsTube. Download youtube videos free by using the following steps.
Install InsTube app on your smartphone
Copy video link
Tap on the Red flash button on right bottom popped up on your smartphone screen.
Choose the desired resolution and Tap download
If you are on youtube or other platforms, even in WhatsApp:
Click on share
Tap Download with Instube
Select the resolution and download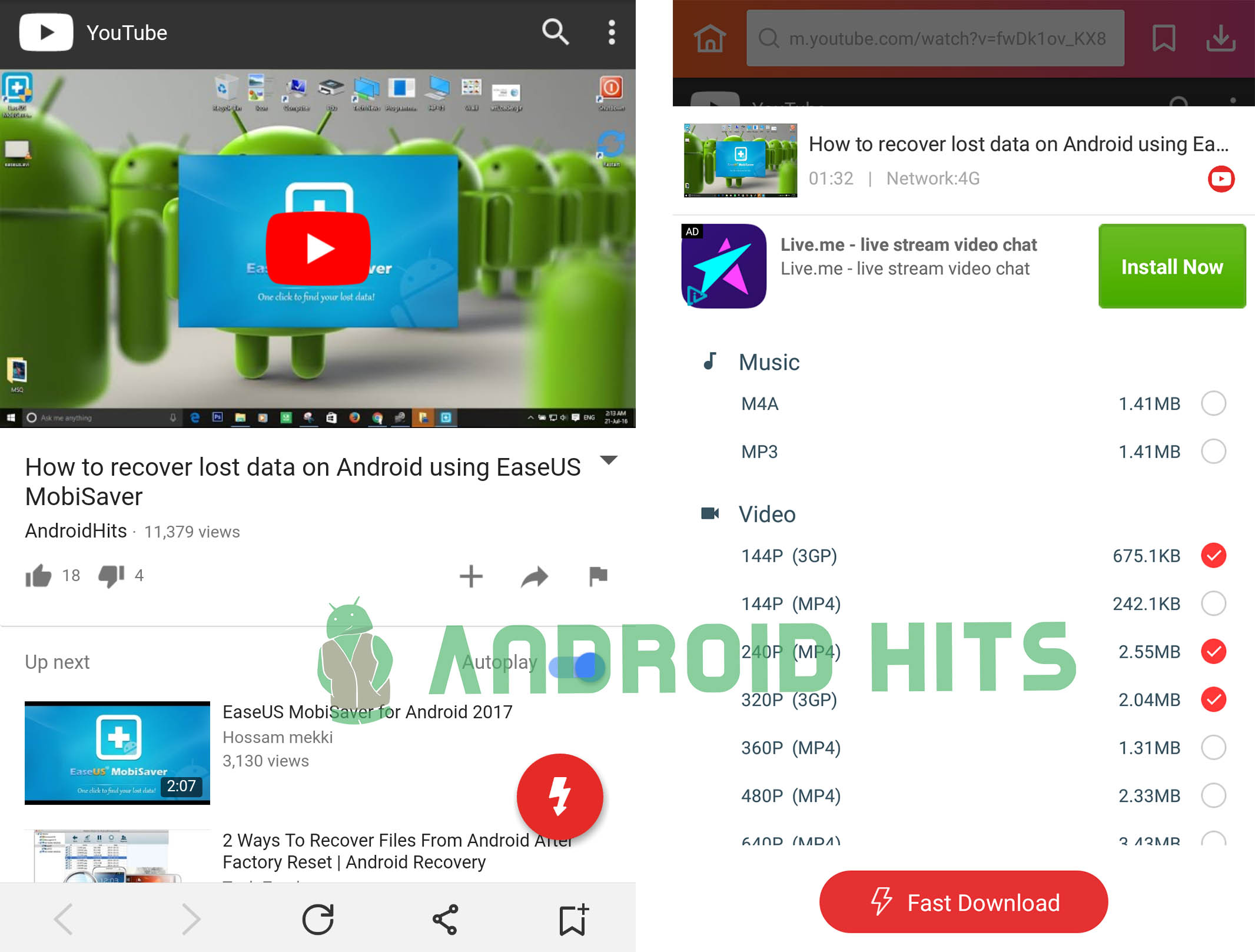 Pros and Cons
Pros
Less than 6MB in size
Easy to download
Supports lots of websites
Faster downloading options
Private section
Cons
Slower link generating
Too many ads
Clipboard identifier icon stays for several seconds only
Verdict
The InsTbe app is worth installing on your android smartphone if you like to get any videos at any of the desired resolutions, even as audio without much risk. The app is not available to download from PlayStore or any App downloading stores, as Google prohibits the Youtube video downloading. You can get it from the link below: