Instagram is considered one of the less polluted social media platforms. Because, as compared to the other leading social media channels, Instagram has less number of cyberbullying issues and abuse cases. But still, Instagram wants to serve the best experience for their users. For that, they introduce a new feature which automatically blocks offensive comments on your photos.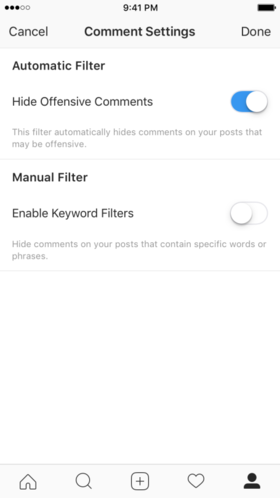 This new feature is now rolling out to the Instagram apps globally. This is now available for both Android and iOS platforms. It adds a new option in the menu where you can choose whether to turn on comment filtering or not. If you turn it on, Instagram will keep you safe from the offensive comments. This feature is available for both photo uploads and live videos.
In the announcement, Kevin Systrom CEO & Co-founder, Instagram said:
Many of you have told us that toxic comments discourage you from enjoying Instagram and expressing yourself freely. To help, we've developed a filter that will block certain offensive comments on posts and in live video. All other comments will appear as they normally do and you can still report comments, delete comments or turn them off. Also, you can always turn this filter off. To access it, click the "…" settings menu from the profile and scroll to tap "Comments."
Download the latest version now.
[appbox googleplay com.instagram.android]