Chinese startup flagship manufacturer OnePlus is always quite faster in delivering the updates in timing, and pushing away the new Android updates for their almost every smartphone launched far. Newly launched Android 8.0 Oreo is expected to arrive the company's last two devices – OnePlus 3/3T and OnePlus 5 soon, as they do every year. Now, a OnePlus 5 smartphone has been spotted on Geekbench which runs Android 8.0 Oreo Operating System on board.
It is just guess-able that the Oneplus is currently running some internal testing for the OnePlus 5 with Android Oreo. As usual, the operating system would be an Android-based OxygenOS version, with unique features packed from the OEM, beyond the stock features from Google itself.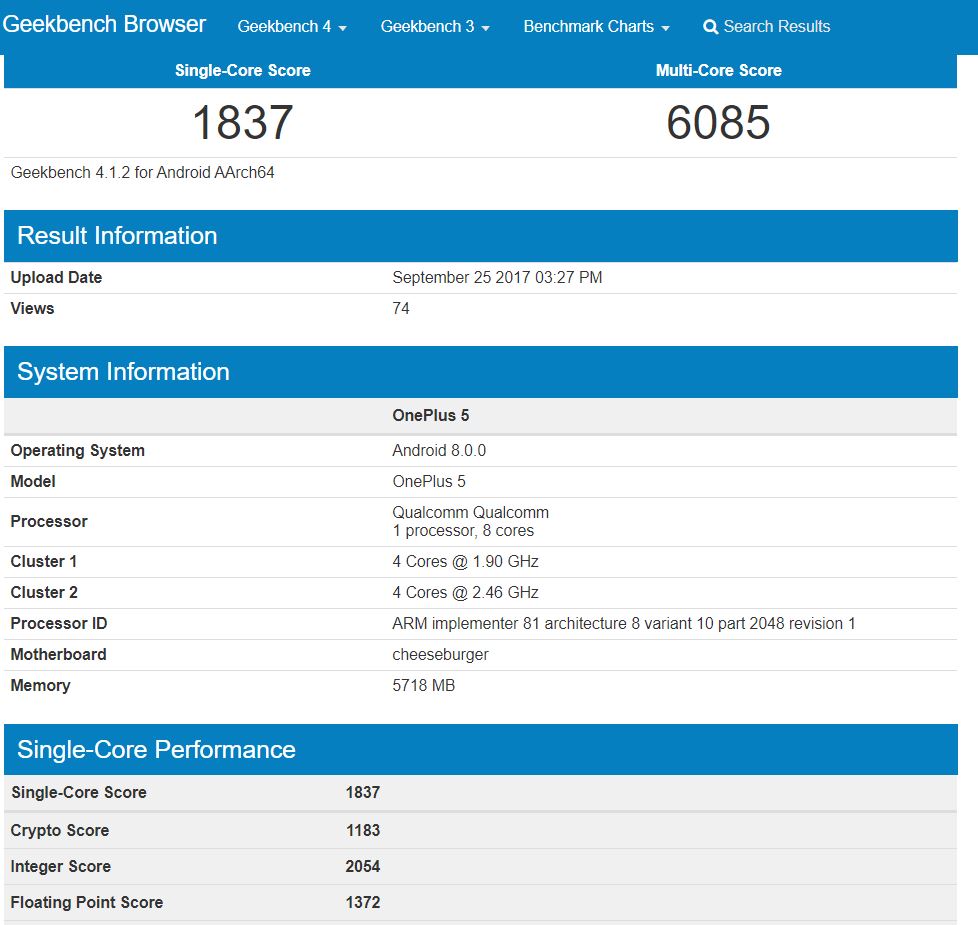 As the device is just being tested on the new operating system, the Geekbench results seem very less, i.e, the smartphone is drawing back something in terms of performance. The Single-core performance of the smartphone powered by Qualcomm Snapdragon 835 SoC comes down to 1837 from the previous results of an average score of 1945 in Android Nougat. Concerning the multi-core performance too, the device is lacking performance as the new score sheet points to a count  6057, which is almost 500 points less than old results. We can also recognize performance drawbacks in other phases of hardware benchmarking.
Reasons for the less geek bench score must be:
Tested device has only 6GB RAM
Software under testing.
We can expect the OnePlus would work better on the OS to bring the best out of it while releasing the previews, or at least while pushing out the OTA for OnePlus 5 smartphones. The first Beta test release of teh Android Ore-based OxygenOS for OnePlus 5 is anticipated to be published within three weeks.
Stay tuned to know more and get notified first when the OnePlus releases the update for your OnePlus 5.