As promised by the company, Essential always keeps on fulfilling their update policy with the latest updates and patches from Google. Just after a few hours of the official release of Android 9.0 Pie, Essential phones are receiving the update to the latest operating system version, ie. Android 9.0 Pie. Essential has very proudly announced the availability of this update in their device. This new update is the biggest update of this year for Essential phones and it contains August security patches as well. Overall, the company is keeping their customers happy with everything latest.
The update has just started rolling out to the device globally. This update brings many major changes to the overall experience on Essential Phone, which include an adaptive battery feature, a new gesture-based navigation option, a new Material theme in the quick settings and settings menu, and much more. However, in a hurry to release the update quickly, the engineers at Essential has forgotten to update the security patch string, so it will still show as July security patch while it is running on the latest August security patches. The company has promised to fix this bug in their next release.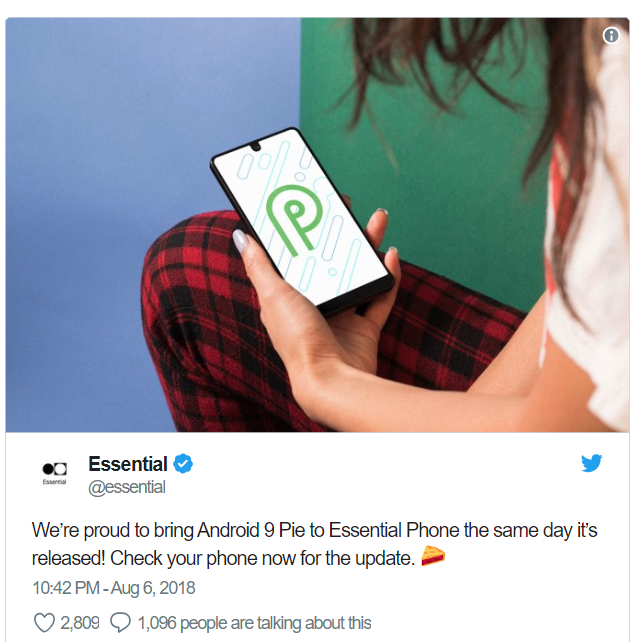 "Our Android Pie release DOES include August security patches. In our enthusiasm to get it to you as soon as humanly possible, we forgot to update the security patch string. It will be corrected in our next release." – Said Essential on its official Twitter page. "We're proud to bring Android 9 Pie to Essential Phone the same day it's released! Check your phone now for the update." – the company added.
If you are using an Essential Phone now, you should see an update notification in your notification panel. If you don't see that yet, head over to the settings to get the update in your device. However, there is no timeframe for the update rollout. So that, it will hit all devices very quickly within hours.