The price margin of the Drones is decreasing day by day as their demand increases. Also, you can get attractive offers from sellers on drones. The "DROCON Blue Bugs Brushless Drone Support GoPro Action Cameras, 20 Minutes Long Flying Time, 300 Meters Long Control Range, Advanced Quadcopter MJX Bugs 3 Drone" is an excellent product with a great deal offer which you cannot decline. You can now grab the DROCONE Drone at just $79.99 from Amazon using the COUPON CODE below. The original price tag of the product is $169, and you are getting nearly 53% off using the coupon.
Owning a Drone or Quadcopter is not a big deal at all nowadays. There are indeed a plenty of Drone products available in the market, both online and offline. But finding a best, cheaper drone is a hard nut to crack for many people due to the overwhelming number of multicopters available. Apart from being an additional gadget to an electronic aficionado, drones have gotten a new phase of mannerism. They are widely used for various purposes from taking selfies to the military operations. So owning a drone by yourselves is not a bad idea if you have a plan to buy one now. In case you are in seek some better drones at best price tags, this BROCON Blue Bugs Drone would be a perfect match for your need. The drone packs many features which you normally expect from a quad-copter.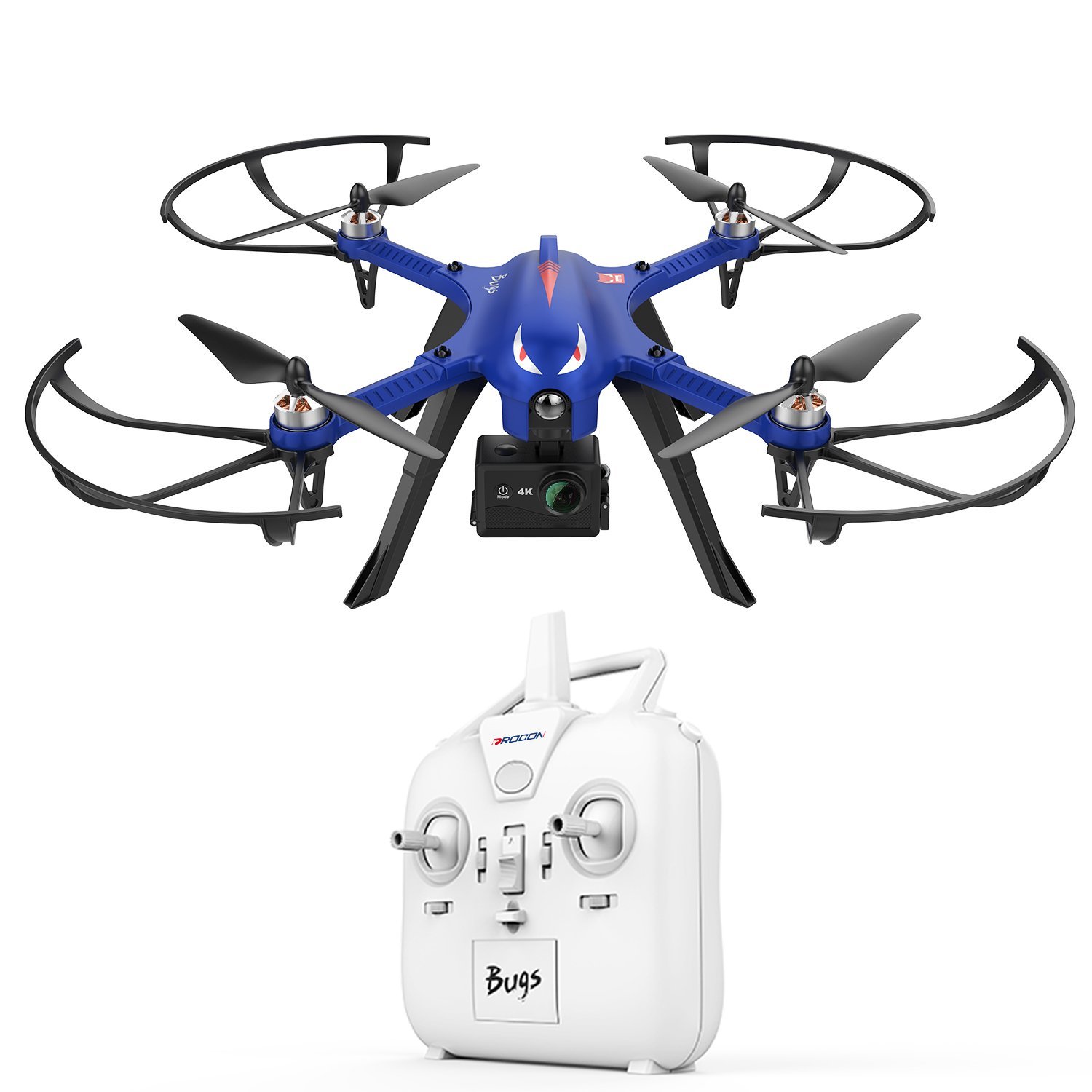 The Drone, by default, does not carry any camera or stabilizer. But the company has added a Gimball/stabilizer for action cameras like GoPro, with stable and steady shots ready. But there is no way you can stream the video from the drone in real-time while flying.
According to the makers, the DROCON Drone is capable of doing Two Way Signa Communication through the same radio frequency channel which the remote controller sends data. Whenever there is a command or signal from the remote controller passes,  the BROCON Blue Bugs 3 drone pings back the necessary data to the remote to avoid delay in signal or-or the accuracy in control. It can be controlled from 300-500 meters away with 100% accuracy in flight control. The fast and powerful brushless motors on the gadget are capable of taking the drone to 1000 feet and above in few seconds. The battery charge can retain up to 15-20 minutes of continuous flight.
The flight controller board supports Automatic Lock Prevention and Hih temperature lock protection. The ESC (Electronic Speed Control) board are provided individually for each brushless mtoor, which actually helps in independent speed control to make the drone movements much interesting a well as volatile.
Now, the Blue Bugs Drone is being sold by the retailer at AMazon.com with 53% of the price cut. They also offer free shipping to the US (Amaazon.com). The actual price tag of the 'DROCON Blue Bugs Brushless Drone Support GoPro Action Cameras, 20 Minutes Long Flying Time, 300 Meters Long Control Range, Advanced Quadcopter MJX Bugs 3 Drone' is $169.9, and the below code helps you to reduce it by half, to $78.99. The battery pack with 1800mAh storage capacity, 7.4v and 25C discharging rate, is replaceable and costs only $28 for a pair. 
Plus, you can even get some extra offers along with the drone while checking out. You can get an action camera by paying the only %1 of the price (*Restrictions Apply). But you cannot apply the following code if you wish to buy some Action Camera using the code given in Amazon.
Shipping information: free shipping
Coupon Code: 53% off code: I58HXJUK
Expiration Date: December 31st
Price: $169.90  $78.99
BUY NOW
Warning! We do not recommend a drone to children below 14 years. Consider them for BIG BOYS. Cheers! 🙂