Today, We've found an amazing deal on a smartphone in the United States. You can now buy a brand new BlackBerry Priv smartphone by spending just $225 in the US. It is a great deal when considering the launch price of the smartphone. The price has dropped from $699 to $225. However, some retailers were selling this device for $270. Anyway, you can now get it for just $225.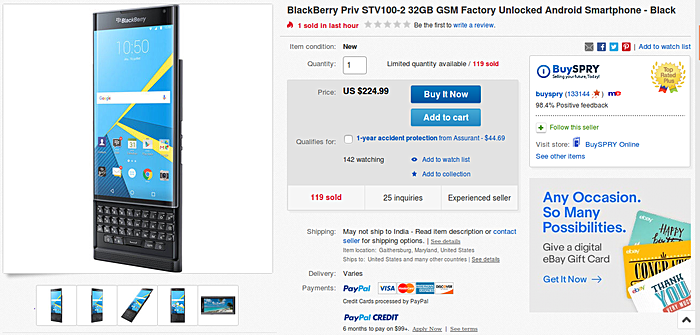 The PRIV BlackBerry 32GB Smartphone in black is the first-ever BlackBerry smartphone to run an Android OS. Combined with its dynamic performance, enhanced security features, and physical keyboard, the PRIV is a powerful multitasking tool. Driving the PRIV is the powerful Snapdragon 808 hexacore processor and 3GB of RAM. It's equipped with 32GB of storage and features a microSDXC slot that supports cards up to 2TB for expanded storage capacity. The integrated micro-USB 2.0 is SlimPort compatible for use with optional video adapters, and also serves as a charging port.
The PRIV houses a 5.4″ AMOLED screen, which is designed to produce vibrant images with robust color depth. The screen's 2560 x 1440 resolution enables you to view detailed on-screen content. For photo capturing and video recording/chatting, this smartphone features a 2-megapixel front camera and an 18-megapixel rear camera. The rear camera has a 6-element f/2.2 lens and incorporates optical image stabilization. Autofocus is also built-in and there's a dual-LED flash for taking pictures in low-light situations. On the video side, the rear camera allows you to capture detailed HD video at 1080p resolution.