Today in a press event, Samsung launched their new model of Galaxy S8 with Burgundy Red color in Korea. The smartphone is expected to come in other markets very soon. The only change in this variant is the new color, all other specifications and hardware are same as the original version.
The new, luxurious hue accentuates the elegance of the Galaxy S8's ergonomic glass and metal form, creating a seamless and refined aesthetic that will resonate with a wide range of tastes. In addition to a sleek, bezel-less design, the Galaxy S8 features an array of cutting-edge, user experience-enhancing mobile technologies.
The Burgundy Red color looks stunning at a glance. This is very dark, deep and shining Red color. The Highlighted Hue makes the smartphone stands out in the crowd. However, the color variant seems available on galaxy S8+ too. This is not the first time Samsung is making their smartphones in unique colors. The Galaxy S8 and S8+ itself had a light shaded coral blue color variant and Galaxy Note 8 in the dark hue of deep sea blue color.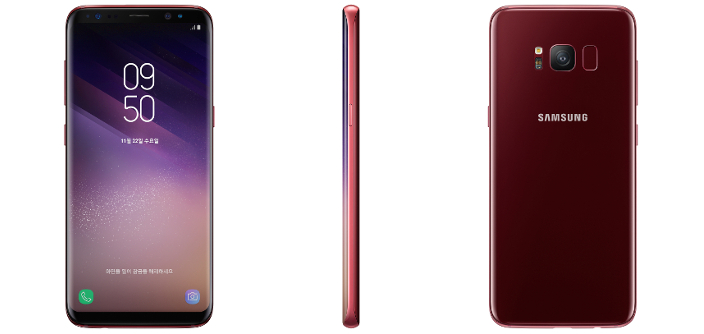 In case you don't remember, the Samsung Galaxy S8 was launched back in April this year. The smartphone has a more extensive infinity display, powered with Qualcomm Snapdragon 835 SoC, paired with 4GB of RAM. Galaxy S8 has a 12 MP primary camera sensor, with f/1.7 aperture. The smartphone was initially launched with color variants – Midnight Black, Orchid Grey, Arctic Silver, Coral Blue and Maple Gold.
The Galaxy S8 is also available in Midnight Black, Orchid Gray, Coral Blue, Arctic Silver and Maple Gold.