Xiaomi's upcoming smartphone under the subbrand POCOPHONE has been on the news for months. The first smartphone by the company is already expected to see the light within a month in several markets including China and India. Following the leaks that confirmed the smartphone's imminent launch in India, another certification details revealed the complete hardware specifications the device might carry. This time, in the form of Bluetooth certification listing. It seems the dveice has just passed the stage.
The smartphone model is to be named as POCOPHONE F1, confirms the document. There is no mention of the display or screen size of the smartphone. However, lately leaked information revealed us the screen specifications that might size about 6-inches, but not confirmed yet.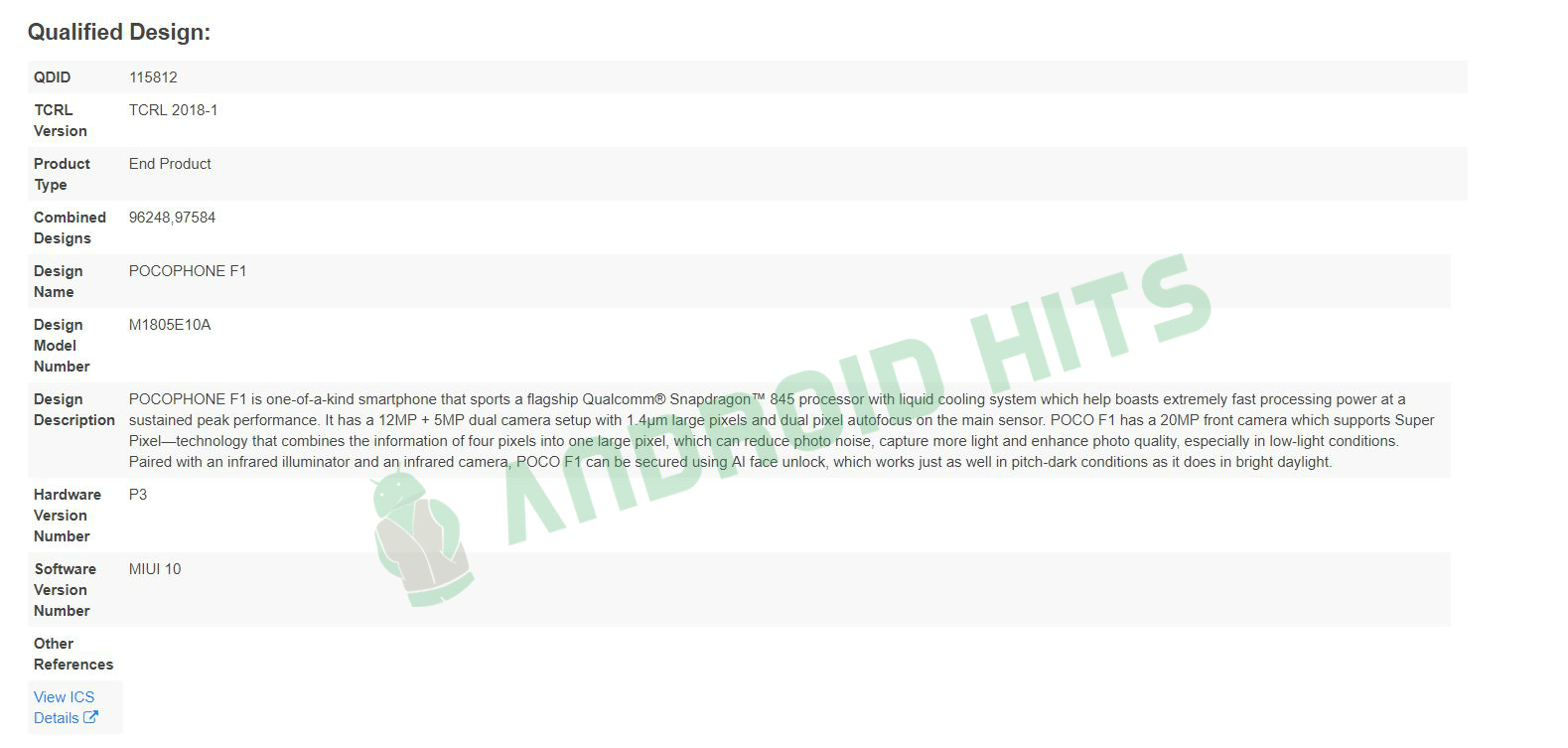 Surprisingly, the document description unveiled the complete hardware specifications and feature of the POCOPHONE F1. The smartphone will carry a Qualcomm's Snapdragon 845 Chipset under the hood, along with 6GB RAM and 128GB Internal Storage. On the rear panel, the company accompanies a dual-camera setup, that pairs up a sensor of 12MP resolution with the other of 5MP. Also, Xiaomi says the smartphone will have a bigger sensor with 1.4µm large pixels. The device also uses DualPixel technology for faster autofocus.
The POCOPHONE F1 has a 20MP front-facing camera sensor which comes with Super Pixel technology. According to the company documents, the Super Pixel uses information from four consecutive pixels to create one pixel, thus increasing the sharpness. The front row of sensors also contains an IR sensor for Face Detection. The Artificial Intelligence powers the face-unlock feature. The company also offers face unlock even in dark conditions.
As per the reports, we got to know that the Xiaomi's POCOPHONE is prepping up to market the smartphone as the cheapest Android device with Snapdragon 845. But, it was earlier suggested to price around Rs. 32,000. However, the Taiwanese giant ASUS already has their flagship Zenfone 5z in Indian at just Rs. 29,999. We need to wait and confirm the information concerning the POCO F1 smartphone.
Stay tuned!