In this era of smartphones, people buy a mobile phone for so many needs. According to the surveys, people are using their smartphones often for photography. They love to capture new things with their smartphones, it includes their own selfies too. But we need best editing apps for making good pics. So let's talk about the best photo editing apps for Android smartphones.
Prisma 
Prisma was one of the most trending Android apps before some months. There was a huge rush for the app before some months because it was an iOS only app. Now it is available on Android devices also. But, it is no more a trending app now. Prisma has so many filters to convert your normal pics to amazing outputs. The speciality of this app is that it works on the basis of artificial intelligence. Prisma transforms your photos and videos into works of art using the styles of famous artists: Van Gogh, Picasso, Levitan, as well as world famous ornaments and patterns. A unique combination of neural networks and artificial intelligence helps you turn memorable moments into timeless art pieces.
Prisma has over 30-odd filters inspired by famous artists and styles. The app processes every image individually and provides unique outputs. It was an internet connection based app, but thanks to the developers as it supports offline processing also.
Features of Prisma app:
Modern art filters!
Stunning photo effects
Fast sharing
Download it right now and enjoy the new world of image editing.
[appbox googleplay com.neuralprisma]
AirBrush: Easy Photo Editor
AirBrush is another simple photo editor app with some unique features. It is mainly designed for the selfie lovers. It helps you edit your selfies into awesome pics. The app optimizes your images for social media sharing and many more other works. It doesn't have too many annoying options but still works like charm. It is smooth and powerful for optimizing your pics.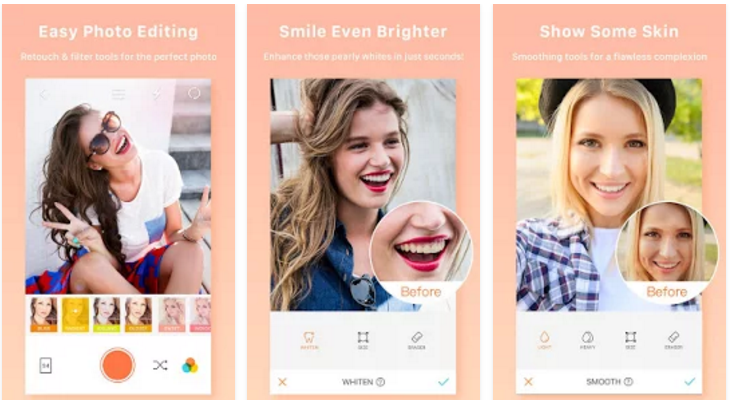 The app comes with a pre-installed tutorial which helps you use the app perfectly. It is purely designed for the selfie lovers. It helps you remove unwanted ugly marks from your face. It helps you to whiten your skin and teeth as well. AirBrush was designed to be the best photo editor with user-friendly retouch tools, cool filter options, and natural, beautiful results!
Download AirBrush now and enjoy your selfies.
[appbox googleplay com.magicv.airbrush]
Adobe Photoshop Express
The name says all. Adobe Photoshop is the world's best and greatest image editing software for computer devices. They have an Android app too. Adobe offers everything for your mobile photo editing needs. The app is free to download from Play store and you can use it for making good pictures. It offers so many basic options such as rotation, cropping, red-eye removal and flipping. The app's interface is easy and very smooth enough.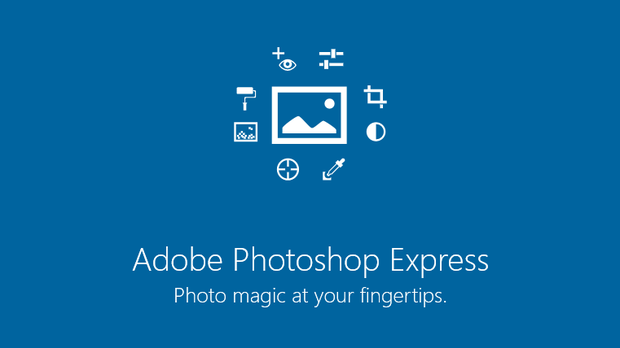 It offers so many professional photo editing options as well. But don't worry, these advanced features are also easy to use. You can use so many advanced options like the dawn, mosaic, vivid and fish eye. Most importantly, it supports RAW format pics. So that you can edit RAW files also using your mobile device. Download it now and enjoy the world of advanced mobile photo editing.
[appbox googleplay com.adobe.psmobile]
PhotoDirector
PhotoDirector is an amazing photo editing app from the world famous company Cyberlink. So we have to pay more attention to this app as it is from an established company. PhotoDirector is a multi-purpose photo editing app. It offers a variety of services in a single app.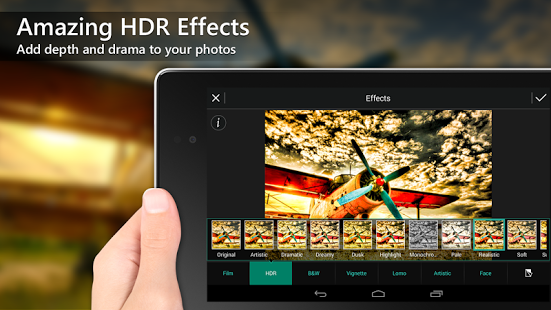 It has basic features and advanced features as well. Both Pros and newbies can use this app for making awesome pics. This quick photo editing app combines a feature-rich photo editor with a richly creative collage maker that lets you adjust RGB with a visual histogram. Change white balance or saturation, or apply photo effects and adjustments to an entire image or specific regions. Use photo filters with just one touch to apply lens flare effects or create light leaked photos. PhotoDirector App gives you an array of tools to turn your everyday pics into spectacular National Geographic style artwork.
Download the app now.
[appbox googleplay com.cyberlink.photodirector]
PicsArt
PicsArt is somewhat famous among youngsters. Because of the unique features, it has acquired a lot of users. It is one of the most popular image editing app for Android devices. In other words, we can say that it is an all-rounder app. Because, it offers image editor with effects, a camera app, drawing tool, and a social platform. Interesting, isn't it?  It's a network for making and sharing awesome pictures, memes and collages with friends.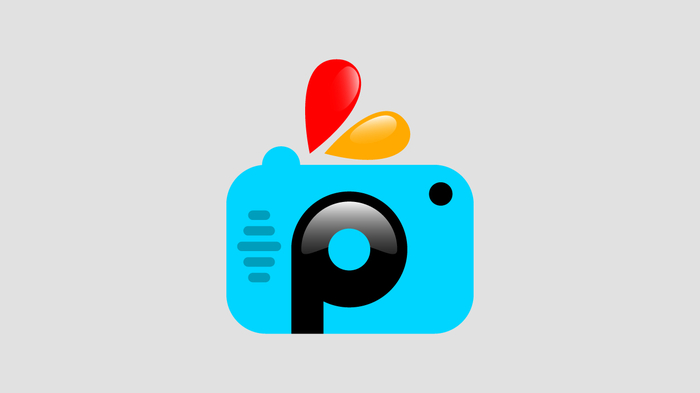 Millions use PicsArt because it offers hundreds of powerful photo editing tools (collage maker, picture blending, filters, picture cropping, and much more), 1000s of free clipart packs, fonts, stickers, collage templates – integrated into a powerful photo editor, and it's free! PicsArt's photo editor, collage maker, and drawing tools are the best way to transform your photos into works of art and to express your creativity with the world.
Download it now.
[appbox googleplay com.picsart.studio]
So these are the top 5 image editing apps for Android devices according to our test. We are sure that you are using much more awesome apps. So please let us know what app you are using. Share this article if you found this helpful. Create awesome pics and create a colorful world.