Android's next version Android P is under development now. The company has already released some early builds for the developers for testing purpose. As announced by the Google, the Android P will have a ton of innovation-oriented features and new generation experience. Now the company has confirmed the presence of some advanced features on the mobile build. It is expected to have iPhone X like gesture control system. It looks like it will provide an iPhone X like navigation experience to the users.
In an official blog post, Google has shown a screenshot from a device running Android P latest build. It shows the new navigation bar and its features. Unlike the stereotyped navigation bar with Back button, Home button and menu button, this one shows a hollow-styled back button and a pill-shaped home button only. This was a surprising thing for the Android users as it is the first time they are witnessing such a setting. No other custom ROMs never showcased such a navigation setting yet. However, the blog post was not about the presence of this feature, but it was about the availability of a Private DNS mode on the first Android P Developer Preview release. Soon after the spot, the company updated their article with a cropped image, which does not have the navigation bar.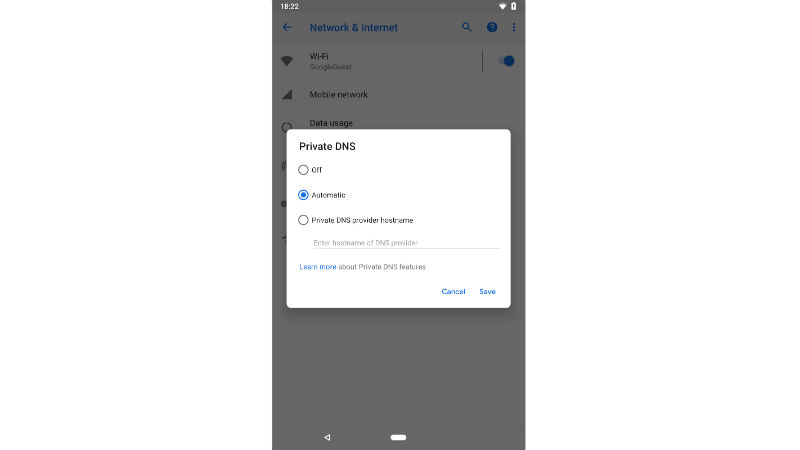 Nevertheless, some smart people managed to take a copy of this particular screenshot. Another confusing fact is that, the first build of Android P had a conventional navigation bar. So it is doubtful about the availability of this feature. This isn't the first time we've seen evidence that gesture navigation is on its way. Android P features a new horizontal sliding animation when you navigate from screen-to-screen in an app, which would line up well with a swipe-to-go-back navigation gesture.
In a Twitter conversation with Amadeo, 9to5Google's Stephen Hall says that his sources have confirmed that the new revelation points to Android gesture navigation. The home button particularly looks similar to the gesture navigation system available on the iPhone X.