It's been some months after the release of first developer preview of Android N. The first preview bring bought many new features and changes. After that we got a 2nd preview build of Android N. It also improved many things. Now at Google I/O 2016, Google has revealed the 3rd developer preview of Android N. Read the complete details below :
Supported devices : 
Android N developer preview 3 is now available for many devices which are:
Nexus 5X,
Nexus 6,
Nexus 6P,
Nexus 9,
Nexus Player,
Pixel C,
General Mobile 4G (Android One)
Sony Xperia Z3.
You can download the developer preview 3 on these devices.
What's new in Android N developer Preview 3 :
Android N also adds some important new features to help keep users safer and more secure. Inspired by how Chromebooks apply updates, we're introducing seamless updates, so that new Android devices built on N can install system updates in the background. This means that the next time a user powers up their device, new devices can automatically and seamlessly switch into the new updated system image.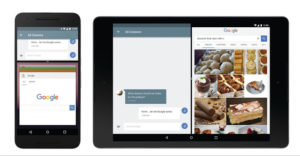 Today's release of Android N Developer Preview 3 is our first beta-quality candidate, available to test on your primary phone or tablet. You can opt in to the Android Beta Program at android.com/beta and run Android N on your Nexus 6, 9, 5X, 6P, Nexus Player, Pixel C, and Android One (General Mobile 4G). By inviting more people to try this beta release, developers can expect to see an uptick in usage of your apps on N; if you've got an Android app, you should be testing how it works on N, and be watching for feedback from users.
VR Mode in Android  
Android was built for today's multi-screen world; in fact, Android powers your phone, your tablet, the watch on your wrist, it even works in your car and in your living room, all the while helping you move seamlessly between each device. As we look to what's next, we believe your phone can be a really powerful new way to see the world and experience new content virtually, in a more immersive way; but, until this point, high quality mobile VR wasn't possible across the Android ecosystem. That's why we've worked at all levels of the Android stack in N–from how the operating system reads sensor data to how it sends pixels to the display–to make it especially built to provide high quality mobile VR experiences, with VR Mode in Android. There are a number of performance enhancements designed for developers, including single buffer rendering and access to an exclusive CPU core for VR apps. Within your apps, you can take advantage of smooth head-tracking and stereo notifications that work for VR. Most importantly, Android N provides for very low latency graphics; in fact, motion-to-photon latency on Nexus 6P running Developer Preview 3 is <20 ms, the speed necessary to establish immersion for the user to feel like they are actually in another place. We'll be covering all of the new VR updates tomorrow at 9AM PT in the VR at Google session, livestreamed from Google I/O.
Android Instant Apps: real apps, without the installation 
We want to make it easier for users to discover and use your apps. So what if your app was just a tap away? What if users didn't have to install it at all? Today, we're introducingAndroid Instant Apps as part of our effort to evolve the way we think about apps. Whether someone discovers your app from search, social media, messaging or other deep links, they'll be able to experience a fast and powerful native Android app without needing to stop and install your app first or reauthenticate. Best of all, Android Instant Apps is compatible with all Android devices running Jellybean or higher (4.1+) with Google Play services. Android Instant Apps functionality is an upgrade to your existing Android app, not a new, separate app; you can sign-up to request early access to the documentation.
Android Wear 2.0: UI changes and standalone apps  
This morning at Google I/O, we also announced the most significant Android Wear update since its launch two years ago: Android Wear 2.0. Based on what we've learned from users and developers, we're evolving the platform to improve key watch experiences: watch faces, messaging, and fitness. We're also making a number of UI changes and updating our design guidelines to make your apps more consistent, intuitive, and beautiful.  With Android Wear 2.0, apps can be standalone and have direct network access to the cloud via a Bluetooth, Wi-Fi, or cellular connection.  Since your app won't have to rely on the Data Layer APIs, it can continue to offer full functionality even if the paired phone is far away or turned off. You can read about all of the new features available in today's preview here.
New fixes : 
Bluetooth Audio playback interrupted after 1 song (bug 206889)
Pixel C Consistently Crashes (bug 206962)
Clock and Toast notification issues (bug 203094)
Pixel C reboots when connected to MacBook Pro via USB C Cable (bug 205432)
Calandar offset by one day (bug 203002)
TelephonyManager.getAllCellInfo returning invalid data (bug 203022)
Nexus 6p, Bluetooth keeps disconnecting (bug208062)