The calendar is one of those free add-ons where my eyeballs are put by daily. Since the cell phone was developed, since then, Calendar has been the most useful tool for phone users. It lets you be productive and punctual as well, isn't it? Many folks have even moved forward to other apps of mobile, included, time scheduling, etc. Nonetheless, there are still some peoples out there who love using calendar daily to be more productive and punctual. Now we are listing the top 5 best calendar apps for Android devices.
If you've also looking for calendar apps, then this is that post you'd like to check. In this way, we'll reveal some of the names of calendar apps you may want to check and use it.
Let's dive in straight away, 5 best calendar apps:
aCalendar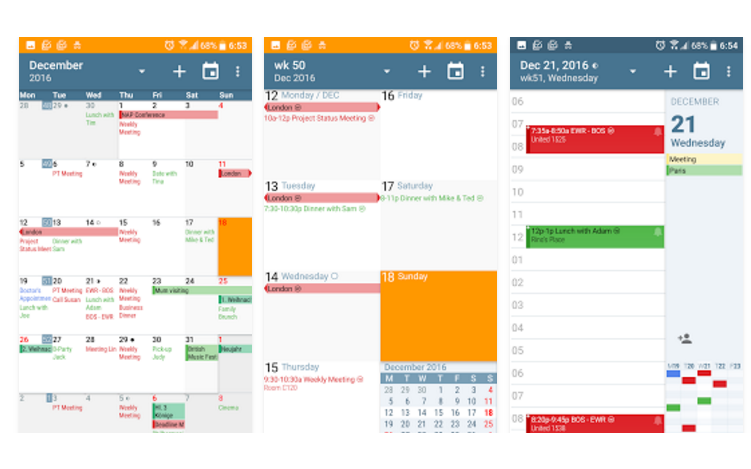 The very first app here we have is aCalendar because of few reasons. First of all, it's free. You can use it without crossing the obstacles of any Ads in there. You can customize this app by choosing colors from over 48 options. You can get it's hidden features as well just by spending $4.99 from your wallet and can enjoy the rest of it features.
[appbox googleplay org.withouthat.acalendar]
Google Calendar
Google Calendar is one of the most popular calendar apps you should be using. In fact, in many Android devices, it's always pre-installed. And just because of this, you might never use it, did you?  Google has emphasized it's calendar for a while now, and thus it has so many features, thus, it comes up with material design, advanced even features, direction integration with Google Services (for instance, reminders support on Google now) and much, much more. You couldn't do any worst thing by ignoring and trying out this free app.
[appbox googleplay com.google.android.calendar]
SyncMate
One more app related to Android calendar is SyncMate. Not an Android app exactly, but a perfect solution if you need to sync data between Android and Mac. SyncMate allows syncing calendars events, contacts, media, folders and lots more between Mac and Android. Moreover, you can mount Android as a Mac disk to transfer data directly.
Jorte Calendar and Organizer
Jorte is no doubt one of the most beautiful calendar apps out there you could try. Why? Because sometimes you fight just for the sake attractive colors in an app. According to me, this is the only tool that lets you change the background color of your app and icons as well. This tool also can sync service, which you can use to gather data on your other devices.
Along with this, this tool can do some cool stuff as well that can be done by one of the standard calendar apps. And, do you know the best part of this app? That is you don't have even to pay a dime to secure these features on your mobile app. If you're looking for a tad bit unique app, this is that tool you'd love check.
[appbox googleplay jp.co.johospace.jorte]
Today Calendar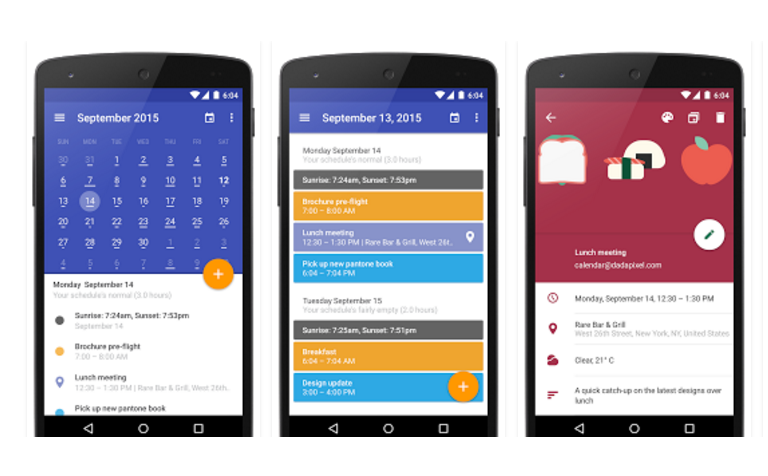 If you're not utilizing Today Calendar, you're insane. Sorry to be so blunt, but it's true. As long as you're searching for the best calendar app, this is that tool you might want to leverage earlier. It lets you change the font of the text within this app, and along with that, allow you to increase or decrease it's font weight, i.e. Bold, bolder, etc. If you've tried Google Calendar app and still looking for some other, this is that tool you may want to give it an attempt.
[appbox googleplay com.underwood.calendar_beta]
SolCalendar
SolCalendar is another best in class timetable application with a ton putting it all on the line. It compares itself an in with no reservations one booking arrangement and has elements to cover schedules and also timetable, and it'll even demonstrate to you the climate for particular days. It has Google Calendar and Tasks bolster, gadgets, a lunar schedule, and it even has Foursquare support. There is lots of stuff here, and it works extremely well as an in with no reservations one arrangement. It's additionally free with no in-application buys which is just icing on the cake.
[appbox googleplay net.daum.android.solcalendar]
These are our top 5 picks for the best calendar apps. We have reviewed so many apps, and these are the top 5 best calendar apps. You can try each of them, and we are sure you will love them. You can share your feedbacks with us in the comment section below. Please share this article if it was helpful.
This post '5 best calendar apps' was submitted by Muhammad Shoaib of Top10BestPro.
Tags: Top 10 calendar apps, best calendar apps, android calendar apps, calendar apps for 2017, calendar apps 2017, best calendar apps for 2017, top calendar apps, smartphone calendar apps, best phone calendar apps.