As even being the most used smartphone operating system ever, the Android is at the stake of virus and malware infection due to its open source nature. A lot of trojans and virus have been detected on Android devices so far, and even many RATs (Remote Access Tools) are there affecting thousands of smartphones a day. Now, the security Research lab of QUickHeal technologies has disclosed about a new Trojan Virus been infected on Android smartphones. The tool is reportedly targeting the banking apps, and many top-tier banking app users are at the stake of the credential leak, says QuickHeal Threat Analysis Official.
According to the QuickHeal report, the newly detected Trojan Tool is named as Android.banker.A9480  which uses Phishing method to attack the users. The app mostly comes with the skin of Adobe Flash Player, which is a quite ubiquitous and widely-installed tool in Android. After the installation is done, the app prompts for granting administrative rights several times until the user allows the permission. Once the app gets permission, the app will search the device for any of the listed banking apps and shows a fake notification which resembles the Banking App notification. The notification directs the user to a fake login page which steals the username and password of the user. Over 232 Banking Apps, Online Shopping Apps (Amazon, eBay, Airbnb, etc.) and several cryptocurrency related apps are targeted by this Trojan Virus.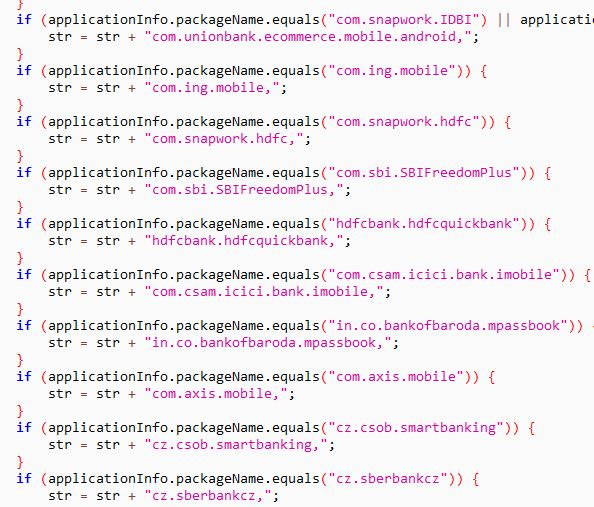 Here is a small list of infected apps.
Targeted Indian Banking Apps:
Axis Mobile
HDFC Bank MobileBanking
SBI Anywhere Personal
HDFC Bank MobileBanking LITE
iMobile by ICICI Bank
IDBI Bank GO Mobile+
Abhay by IDBI Bank Ltd
IDBI Bank GO Mobile
IDBI Bank mPassbook
Baroda mPassbook
Union Bank Mobile Banking
Union Bank Commercial Clients
Targeted Cryptocurrency Apps:
Bitfinex
Bitcoinium
Bitcoin Ticker Widget
Bitcoin/Altcoin chart, alarm, ticker
Flux Bitcoin Widget
Bitcoin Price
Crypto Prices All-in-One
Blockchain – Bitcoin & Ether Wallet
Blockchain Merchant
WUBS Prepaid
BTC.com – Bitcoin Wallet
BTC SAFARI – Free Bitcoin
Bitcoin Price IQ
Bitcoin Wallet
Blockfolio Bitcoin / Altcoin App
Bitcoin Wallet by Freewallet
Bitcoin NewsCrane
Bitcoin CoinMarketCap.com (unofficial) / Altcoin
CoinPayments
Bitcoin Cash Wallet by Freewallet
CoinMarketCapp – Blockchain Cryptocurrencies
CryptoStory – Cryptocurrency Portfolio
Dogecoin Wallet
We suggest you take several precautions in order to be safe from the Trojan/Phishing attack:
Avoid installing untrusted Apps
Check App permissions before installing any app
Think thrice before granting admin access to an app
Do not respond to any inappropriate or suspicious notifications
DO NOT install Adobe Flash Player as the Android versions 4.0+ have it inbuilt on the device browser itself.
Use reliable Antivirus tools and keep the device and Antivirus updated.