If you are a smartphone enthusiast, you might have come across the specifications of many new generation smartphone models. As you saw, one important factor is trending in the world of smartphones. It is on the screens. Started by Samsung, the war of infinity displays are progressing aggressively with new models and new brands. Now, almost all major smartphone vendors are focusing on their infinity screen smartphones.
Some discussion
Taking some examples, Vivo built V7+ (Read review), Oppo built F5, LG built Q6, Micromax built Canvas infinity and many other smartphone models are there. So the full view screen fever is spreading rapidly. Each and every brand is now following the trend. Guess what, Do users really care about this? Last week, we conducted a survey on our Facebook page. Around 39000 people voted in that survey. You can see the pie-chart survey results below: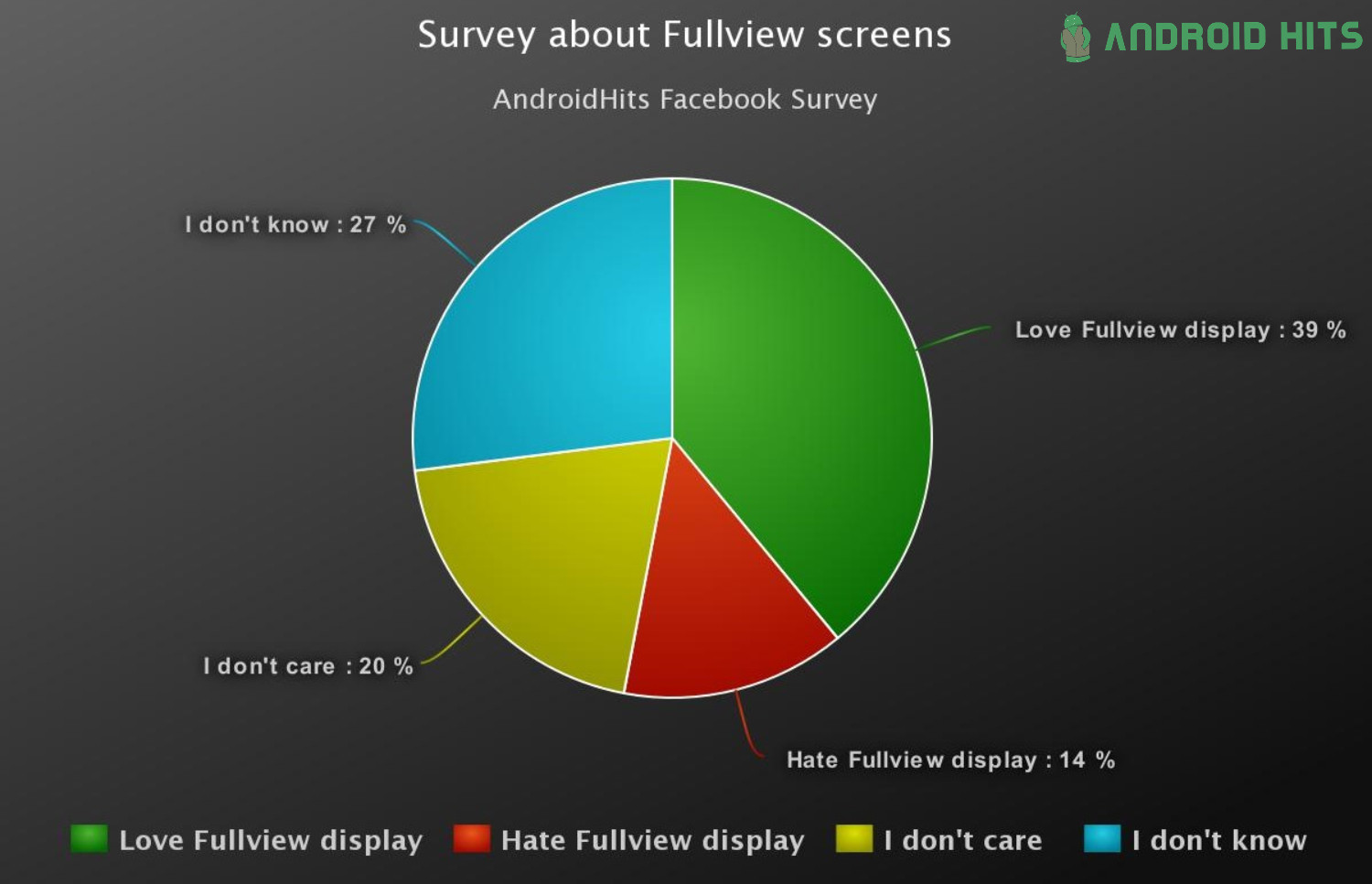 As you can see in the survey results, the majority of the users actually love the full-screen displays. As expected, most of the customers are now following the trend of 18:9 screens. That's good to see. Because it is really hard to drive some amount of users to a new innovative path. But because of the incredible design and innovative built, the new screen ratio attracted so many brands. When leading brands started using this technology, their humble users also chose that way. From this survey, we can see that majority of the consumers are loving the new technologies and innovative ideas. Many brands like Samsung already knew this, that's why they are bringing latest innovations to their smartphone models like Galaxy S8 and Note 8.
At the same time, 27% of the users are unaware of this. Because they don't have a clear idea about the 18:9 ratio screens. I am sure that they are not very tech enthusiasts and haven't seen any smartphone models with that type of screens. If you are one of them, don't worry, we got you covered.
What is 18:9 aspect ratio?
Aspect ratio relates to video, and it's measured in landscape mode. It's the ratio of the two sides (length and width) to each other. This does not include the plastic or metal strips on either side of the display, of course. So, when a phone has 16:9 aspect ratio, as most phones do, the ratio of its two sides is 16:9.
The same applies to 18:9 aspect ratios. But, if you do the match, 18:9 just comes out to 2:1, which means that the width (height, when viewed in portrait) of the phone is twice that of its height (width, when viewed in portrait). Since you hold your phone in portrait mode most of the times, this means it is taller, rather than being wide.
Only 14% of the users hate the full-screen smartphones. Because the taste of the humans is different and unique. So, we can't blame them. Whenever something new happens in any industry, there are so many people who are always standing on the opposite side. So no need to worry about them. Also, many of them are worried about the weird look and the difficulty to handle the device. So can't blame them, seriously!
Why do the 18:9 ratio screens trending?
At first, 18:9 aspect ratio screens were available only for some flagship models such as LG G6. But now things are changed. MediaTek and Qualcomm introduced some budget level chipsets which support 18:9 ratio screens. That thing altered the industry. Many OEMs like Vivo, Micromax etc. used those chipsets to bring full view displays on their smartphone models at low cost. As you know, pricing is everything in any market. So lower price with full view displays become a trending thing in 2017.
Now, tell us how you like the full view screens. Do let us know your thoughts in the comment section below.
Thank you and enjoy the weekend!